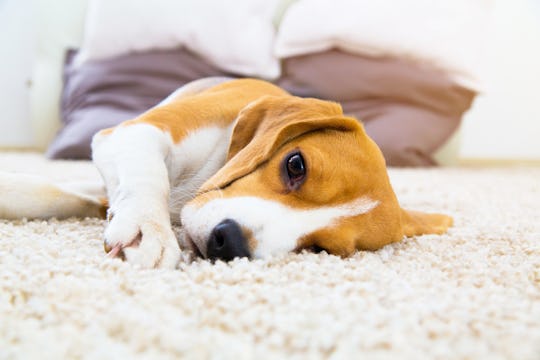 alexugalek/Fotolia
Before Rehoming A Dog That's Bad With Kids, Try These Dog Trainer Tips & Tricks
Many parents have dogs long before they have kids, and those dogs become their first babies. I had a Rottweiler and an akita at home when I gave birth to my oldest, and those pups were my everything before I had my son. I was lucky that my husband was extremely adept at training them before the baby was born, and never had any problems, but that's not always the case. For many, their babies and dogs just don't mix. But what can you try before rehoming a dog that's bad with kids?
The idea of having to rehome a dog you've grown to love is heartbreaking, but equally heartbreaking is for that dog to harm your child in any way. Kids whose first experience with a dog is a negative one tend to develop a deep fear of dogs that becomes overwhelming in adulthood. There are thousands of bites each year, and around 30 bite-related fatalities, according to DogsBite.org. The top two dog breeds for bite-related fatalities are pit bulls and Rottweilers — the dogs most often associated with aggressive behavior. However, the third highest ranking goes to the Labrador and lab mixes, proving that it's not just the breed that's the problem. However, there are strategies like confinement, therapy, and training that can help in a situation with an aggressive dog.
I spoke with former K-9 trainer and now avid dog foster and rehabilitation specialist, Gerard Shapiro of Brooklyn, New York, and he invited me to his facility to meet some dogs that were considered un-adoptable by the kill shelters. He shares with Romper his techniques for rehabbing pups, and gives some options for stressed parents and dog owners.