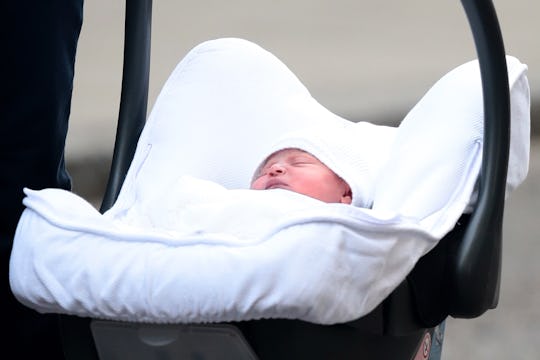 Jack Taylor/Getty Images Entertainment/Getty Images
Royal Baby No. 3 Is Traveling In Style & A Familiar Car Seat Model
At 11:01 a.m. on April 23, Her Royal Highness the Duchess of Cambridge and mom extraordinaire Kate Middleton delivered her third baby — a boy. As avid royals watchers anxiously, awaiting the announcement of the name of the fifth in line for the throne, moms across the globe had their eyes on every move the trendsetting princess made following the birth of her second son. The question on our lips as the royal family prepared to leave the hospital: what car seat does Kate Middleton use? It's only the best for royal baby number three, and the little prince's car seat is no exception.
When big brother George was born in 2013, he was whisked away from St. Mary's Hospital by his father Prince William, who quickly clipped his infant seat into the pre-buckled base. The car seat in question was the Britax Baby-Safe Infant Carrier in classic black. Britax prides itself on being a leader in safety technology, and the royals' choice for newborn transportation is no exception. According to Daily Mail, this particular model won the 2012 Mother & Baby award for Best Buy in the infant car seat category. As the highest rated option from a well-regarded, but hardly designer, brand, it was a practical choice for the family and a fairly modest investment at the equivalent of $160 US.
Demonstrating brand loyalty, the royal couple yet again chose Britax when it came time to take Princess Charlotte home two years later. Although some speculated that she might use her brother's hand-me-down seat, her parents ended up choosing the Britax B-SAFE Infant Carrier for their daughter and second child. The model boasts push-button LATCH connectors as well as an ergonomic design. Like brother George's infant seat, it's designed to be used for the first year of life. It was yet another vote of confidence for Britax from the royal family, but it was Casa Bebe that really benefitted, as admirers rushed to buy Charlotte's posh car seat liner.
And what about baby number three? The 8 lb. 7 oz. bundle of joy made his entrance just weeks prior to the nuptials of his uncle Prince Harry and fiancé Meghan Markle. Like his siblings before him, he was born at St. Mary's Hospital in London. The birth was announced via both social media and an official notice outside of Buckingham Palace. The new baby made his debut today on the steps of the hospital, where fans eagerly awaited the chance to greet the newest prince as they did his brother and sister. Their first glimpse did not disappoint, as Kate and William's newest addition charmed in what appears to be, yet again, the royal family's go-to model.
Duchess Catherine's following of admiring moms looked on to see what car seat would hold her precious little one. Her selection? Britax. Baby's first transportation system seems to feature that of his older brother's and sister's. With their choice, the now parents of three have clearly prioritized safety and given Britax an unofficial royal endorsement.
A car seat is one of the first decisions parents make, and because the safety of their child is involved, it's one of the most important. With so many options, a royal recommendation can mean a lot, especially to first time moms and dads. Good enough for a sovereign? Good enough for me.
Check out Romper's new video series, Bearing The Motherload, where disagreeing parents from different sides of an issue sit down with a mediator and talk about how to support (and not judge) each other's parenting perspectives. New episodes air Mondays on Facebook.