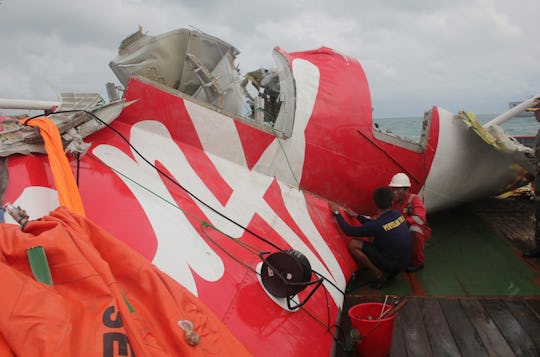 STR/AFP/Getty Images
What Caused AirAsia Flight 8501 To Crash? First-Ever Public Report Offers A Startling New Explanation
After a year-long study, Indonesian investigators released the first-ever public report explaining what caused AirAsia Flight 8501 to crash over the Java Sea last December. All 162 passengers aboard the commercial jetliner were killed on December 28, just midway through the plane's two-hour trip from Singapore to Surabaya in Indonesia. At the time, the prevailing belief had been that weather conditions were the major factor in the plane crash. But on Tuesday, a new report said that a faulty rudder component and the way the crew responded were the major causes of the crash.
The report, issued by Indonesia's National Transport Safety Committee, said that the soldering on one of the electronic components of the flight's rudder control system had a small crack in it, which caused the system to send four warning signals to the pilots. CNN reported that the same malfunction had occurred 23 times before, according to aircraft maintenance records. The pilots responded to the system warnings by resetting the circuit breaker, one of several methods that had been used to resolve the problem in the past, the report stated. However, the loss of power to the system also disabled the autopilot system, along with any automatic system responses to avoid disaster.
Officials from Indonesia, Malaysia, France, and Singapore worked together to conduct the 12-month investigation into the root causes of the Airbus plane crash. The report findings "should not be read as apportioning blame or liability to any organization or individual," the committee wrote. Among their recommendations was that all pilots receive training on how to manually control the jetliners during upset conditions. Training that had been overlooked, the report added, because the flight had automatic protections in place to take over when the plane was in danger.
A review of flight recordings revealed that around 30 minutes into the flight, the pilots requested permission to climb from 32,000 feet to roughly 37,400 feet to avoid incoming storm clouds. CNN analysts said that not only was the plane flying higher than it was designed to do, it also may have been flying faster than it should have. The plane then disappeared from radar minutes later without ever sending a distress call.
In a series of tweets on Tuesday morning, AirAsia GCEO Tony Fernandes expressed "deep sorrow" for all the families affected by the disaster, adding that the report offers "much to be learned" for the company and for the industry as a whole. Fernandes wrote:
These are scars that are left on me forever but I remain committed to make AirAsia the very best. We owe it to the families and my crew.
Image: STR/AFP/Getty Images