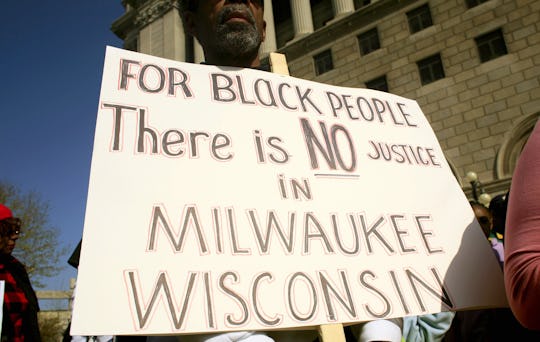 Darren Hauck/Getty Images News/Getty Images
What Caused The Milwaukee Riots? Another Police-Involved Shooting Prompted Clashes
Over 200 people had gathered in Milwaukee, Wisconsin this weekend when violence erupted. A gas station, as well as multiple businesses — a bank and a beauty supply store — within the city, were set on fire. The violence lasted well until midnight but the riots were started for a reason. The reason for what caused the Milwaukee riots is upsetting but very real at the same time.
So what, exactly prompted the Milwaukee riots in the first place? The reality of the situation has been all too real for the past few months and involves yet another shooting of another black male. According to USA Today, the shooting occurred on Saturday afternoon.
The police pulled over two suspects in a car and the suspects took off on foot. In the pursuit, a police officer shot and killed one of the suspects that, according to city police officials, was carrying a "semi-automatic handgun." According to CBS News, "Mayor Tom Barnett said the officer ordered the suspect to drop the weapon, but he refused." Barnett also said that the hand gun held 23 rounds of ammunition.
According to the Milwaukee-Journal Sentinel, one person — Nefataria Gordon — interviewed by the newspaper knew the suspect shot by the police officer. "He was a nice, good person. He was really respected. That's why everyone came out. They're angry."
"The officer had to make a split-second decision when the person confronted him with the handgun," Milwaukee Police Assistant Chief Bill Jessup said at the scene, according to USA Today. "This is a risk they take every day on behalf of our community."
However, hours after the deadly shooting, the violence and riots erupted on the street where protestors smashed windows and, according to NPR, torched a police car.
According to the outlet, one officer was reportedly "injured by a thrown brick." USA Today reported that, oftentimes during the riots, the crowd "pushed against" a line of police officers who were wearing riot gear. Gunshots were also reportedly heard throughout the night. Among the stores that were lit on fire, two bus shelters were also thrown into the street, according to CBS News — as protesters left destruction in their wake.
Around midnight, Mayor Barnett urged people to get off the city streets and stop rioting, according to Buzzfeed. "If you love your son, if you love your daughter, call them, text them, pull them by the ear and get them home," Barnett said.
This violence is only an example of the recent racial tensions in cities across America.