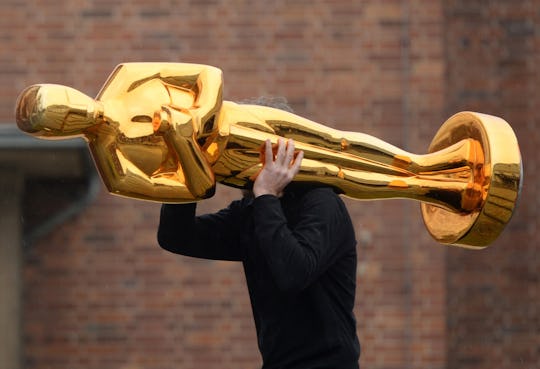 What Channel Are The Oscar Nominations On? There's A Few Ways To Watch
Though viewers just treated themselves to the Golden Globes on Sunday, the Oscars will take place at the end of February. And before the acceptance speeches and red carpet antics can take place it would be good to know what celebs and films are being considered, right? That Oscar nominations will air live Thursday morning. But what channel can the Oscars nominations be watched on? Fortunately, there's more than one answer to this question.
Though the Oscars don't air until Feb. 23, nomination announcements will take place at Goldwyn Theater in Beverly Hills, California, and broadcast live on ABC at 8:30 a.m., according to NJ.com. Actors John Krasinski, Guillermo del Toro, and director Ang Lee will reveal the nominees alongside Academy President Cheryl Boone.
If some don't plan to watch the event on the small screen, there's still ways to catch the nominations. The Academy of Motion Pictures and Sciences is live streaming Thursday morning's announcements on the show's website, Oscars.org/live.
For anyone who's planning to stalk celebs' social media feeds for nomination reactions, it might prove quite a test on Thursday. Some claim that this year is marked by no clear standout works in any category, which means it will be difficult to determine who is a shoo-in for a nom. And between past criticism about the lack of diversity in Oscar nominations and the commercial success of Star Wars: The Force Awakens, there are a ton of factors that muddy the waters.
For example, Todd Leopold of CNN wrote, "Financial success is no guarantee of academy nominations. And will moviegoers be unhappy if, say, the little-seen Room bumps The Martian from the best picture list? There's a lot up in the air."
So, what else is known about the quickly approaching Academy Awards? One big piece of news is that Chris Rock will host the Oscars for the second time since 2005. According to Variety, the event's producers wanted to give the soiree a boost since it brought in its lowest ratings in six years — a 16 percent drop in viewership — last year. And if anyone's going to turn things around it is sure to be Rock.
"We share [Oscars producers] David [Hudin] and Reggie [Hill]'s excitement in welcoming Chris, whose comedic voice has really defined a generation," Academy President Boone said, according to Variety. "He is certain to bring his amazing array of talents to this year's show." So yeah, there's tons to be excited about... but let's just get through tommorow morning in one piece, okay?
Image: Ralf Hirschberger/DPA/Getty Images; Giphy