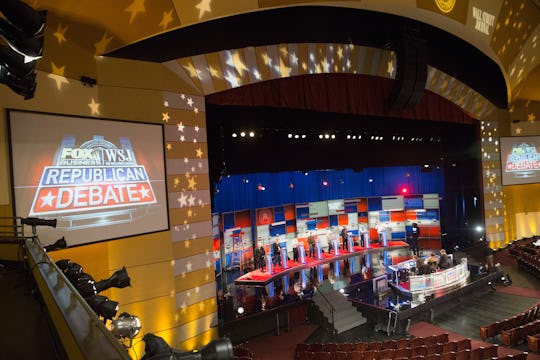 Scott Olson/Getty Images
What Channel Does The Fourth GOP Debate Air On? FOX Business Will Feature The Economy-Focused Show
The Republican presidential candidates are ready to take on the economy tonight. Or at the very least, take on each other. In partnership with the Wall Street Journal, the fourth GOP debate will air on FOX Business Network (FBN). The finance-focused network will grill remaining Republican candidates at Wisconsin's Milkwaukee Theatre, starting at 9 p.m. EST and is slated to last 90 minutes. (Which is way better than that three-hour monster debate we had to sit through back in September.) As for the moderators, discussions will be led by FOX Business journalists Neil Cavuto and Maria Bartiromo.
But if you don't already get FBN as part of your own television package, fear not: Many cable and satellite providers are "unbundling" the channel for one night, so that more eyes reach the debate. According to FOX Insider:
On November 10th, DIRECTV, Suddenlink, Mediacom, Frontier, Wide Open West, and Cable One, along with a significant number of National Cable Television Cooperative (NCTC) member companies, will unbundle the Fox Business Network. 
FBN says viewers should expect questions on tax plans and job growth strategies supplemented by domestic and foreign policy discussions. The debate certainly provides a timely follow-up to CNBC's "Your Money, Your Vote" debate on October 28. Beyond the podium, candidates haven't avoided talking trash about cash. On October 24, Yahoo! Finance reported that Donald Trump criticized Jeb Bush's campaign management skills, balking at his decision to make a 40 percent payroll cut and questioning whether Bush could run a country. At the second GOP debate, Trump faced criticism for bankruptcy filings: a decision he made four times in response to casino struggles in Atlantic City, reports CNN Money. And though Carly Fiorina got a positive response to her showing at the second debate, the former Hewlett-Packard CEO still fields questions regarding her ability to run a business. 
So who will we be seeing tonight? While some GOP candidates have dropped out (or been relegated to the undercard debate), we'll still get to be entertained by: Jeb Bush, Ben Carson, Ted Cruz, Carly Fiorina, John Kasich, Rand Paul, Marco Rubio, and of course, Donald Trump. In other words, it should be a pretty interesting night.
After tackling monthly debates since August 2015, the candidates are still not even halfway through their schedule. The Washington Post reports that there are seven Republican debates after November 10, bringing the total to 11. Expect one in December and one in January before candidates enter a sprint, attending four debates in February. They'll finish the way they started, taking questions from FOX News in March 2016 before the first primary in April.
Image: Scott Olson/Getty Images