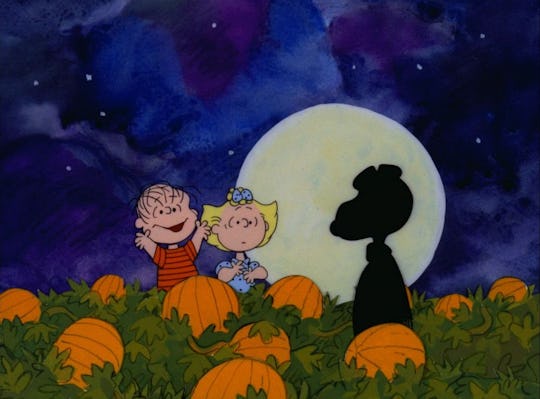 United Feature Syndicate Inc.
What Channel Is 'It's The Great Pumpkin, Charlie Brown' On? It's The 50th Anniversary
This year marks the 50th anniversary of It's The Great Pumpkin, Charlie Brown and it's no surprise that everyone wants to watch this year. Whether you've seen it before or it's your very first time, this Charlie Brown special is a classic that people have loved for generations. So what channel is It's The Great Pumpkin, Charlie Brown on this year? You can find this Halloween classic on ABC on Oct. 28 at 8 p.m. (ET).
If you've never seen the special or just don't remember what happens, there's multiple plot points to take note of. Charlie Brown is invited to his first Halloween party, Snoopy takes on the Red Baron, and most importantly, Linus waits in a pumpkin patch for the Great Pumpkin to make an appearance. Waiting for The Great Pumpkin is the Halloween equivalent of waiting for Santa Claus on Christmas Eve, but for Linus this is serious business and he refuses to let anyone distract him from his mission. According to TV Guide the special will also include a bonus cartoon titled, "You're Not Elected, Charlie Brown." With this upcoming election, this may the most perfect bonus cartoon they could've chosen.
It's The Great Pumpkin, Charlie Brown was created and written by the late cartoonist Charles M. Schulz, who created the Charlie Brown franchise. It all began in the 1950s with the Peanuts comic strip in newspapers and has since then grown into a franchise. Peanuts animated specials have become a seasonal tradition that include The Great Pumpkin as well as A Charlie Brown Christmas. Although Schulz passed away 16 years ago, his legacy and memory lives on through Charlie Brown, and let's be honest, these specials will probably never go out of style. A mix of nostalgia for some and just a fun cartoon to watch for others, people can't get enough of Charlie Brown, which is why the cartoons have lasted this long.
It's obvious Charlie Brown and the gang will never leave us and no matter how old we get, it's comforting to know Charlie will always be there. Make sure to tune into to ABC on Friday night to see It's The Great Pumpkin, Charlie Brown, whether it's for the first time or the millionth.