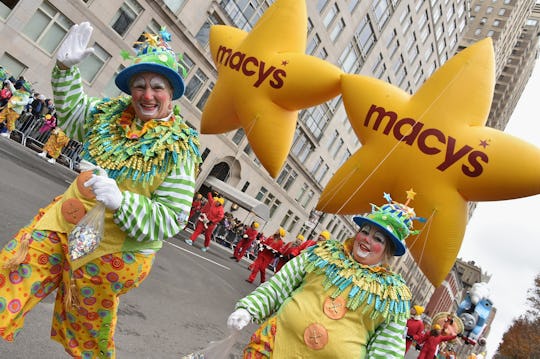 Theo Wargo/Getty Images Entertainment/Getty Images
What Channel Is Macy's Thanksgiving Day Parade On? It's Celebrating 90 Years
The Macy's Thanksgiving Day Parade serves three important purposes: background entertainment for when you have to wake up early on a holiday to bake more pies, whip more potatoes, and baste more birds; motivation to wake up early on a holiday and get in extra pajama-clad cuddle time with friends and family; or it just gives you a front row seat to witnessing a 20 percent chance of giant balloon disaster* (*not a scientifically accurate statistic). Suffice to say, it's an important part of the Thanksgiving celebration, so whether you're planning to watch live, or at least DVR it, it's important to know what channel the Macy's Thanksgiving Day Parade is on.
Get ready to tweet about some awkward anchor moments, because NBC is the proud host of the event. Today Show hosts Matt Lauer, Savannah Guthrie, and Al Roker will be on hand to provide gripping commentary, which hopefully means viewers will forgo embarrassing mimosa-fueled gaffes in favor of a healthy array of dad jokes. There are, however, a few ways to watch it. If you, like me, don't have a TV within viewing range of your kitchen, you can stream the parade on NBC's website or on the NBC app, as long as you have a TV provider login handy. You can also stream an aerial view online at the Macy's website.
This year celebrates the 90th Annual Macy's Thanksgiving Day Parade, which means — you guessed it — a retrospective of the parade through the years. The floats will be grouped by decade, taking it all the way back to the first "Macy's Christmas Parade" in 1926. And, of course, there will be plenty of performances in front of the Macy's flagship store on 34th St. to break up the endless flow of balloons. Interestingly, the parade this year will feature not only performances from Broadway shows, but also a sneak peek of NBC's forthcoming Hairspray Live, which premieres on Dec. 7. Other performances include numbers from the cast of Broadway's Holiday Inn, Cats, Paramour, and Waitress, as well as a performance from the famous Radio City Rockettes.
Other celebs making appearances in the parade or giving performances from floats include country stars Kelsea Ballerini, Brett Eldredge, Maddie & Tae, and Easton Corbin, Tony Bennett, soul artist Aloe Blacc, YouTube stars Chloe x Halle, Daya, De La Soul, Latin Grammy winners Diamante Eléctrico, Fitz & the Tantrums, Christopher Jackson of Hamilton fame, folk pop duo Johnnyswim, Sarah McLachlan, Regina Spektor, Ben Rector, Timeflies, Jacob Whitesides, America's Got Talent's Grace VanderWaal, U.S. Olympic and Paralympic Gold Medalists Michelle Carter, Laurie Hernandez, Mikey Brannigan, and Gianfranco Iannotta, and, of course, the cast and muppets of Sesame Street.
Festivities begin at 9:00am ET on Thursday, Nov. 24. Be sure to tune in for all the holiday fun!