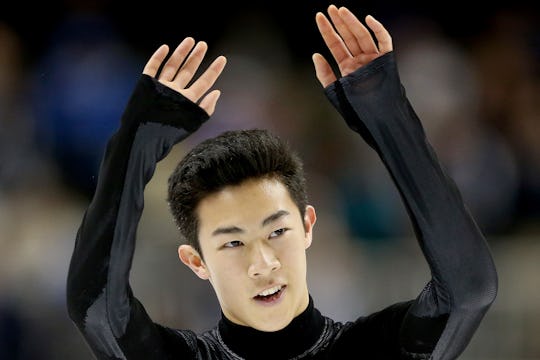 Matthew Stockman/Getty Images Sport/Getty Images
You Won't Want To Miss Out On The Men's Figure Skating At The Winter Olympics
The Winter Olympics are finally here, and that means just one thing (to me). And that is figure skating. If you're like me, you'll want to know exactly when to catch all the events you're most excited to see. So what channel is men's figure skating on? The Winter Olympics officially kicks off on Feb. 8, and that's when you'll get to start watching the incredible grace and athleticism of Team USA's men's figure skating team. And I guess the contenders from other countries too.
All the Olympics events will be broadcast by NBC, so you can watch all the action right on your TV, and men's figure skating will be one of the first events of the games. Figure skating events are divided into different categories including: single skating, pair skating, ice dance, and team event. You can watch everything on NBC or, if you prefer, you can livestream each Olympic event through NBC's official Olympics website or through the NBC sports app, which can be watched with streaming devices like Roku, Apple TV, or Amazon Fire. And perhaps because figure skating is one of the most popular events of the Olympic Games, the events are always on primetime at 8 p.m. ET.
The official schedule for men's figure skating is below. Please keep in mind that these are all listed in Eastern Standard Time:
Thursday, Feb. 8, Team event: Men's and pairs short programs — 8 p.m.
Sunday, Feb. 11, Team event: Men's & ladies free skate, free dance — 8 p.m.
Thursday, Feb. 15, Men's short program — 8 p.m.
Friday, Feb. 16, Men's free skate — 8 p.m.
So mark those dates and times in your calendar to watch the very best in male figure skating for 2018. Likely the most exciting of these programs will be the men's free skate on Feb. 16. This is when everyone will get to see if Nathan Chen takes down the rest of the competition since everyone seems to collectively believe that he's definitely the one to beat.
This record breaking figure skater is just 18 years old and comes from Salt Lake City, Utah. Chen is currently the U.S., Four Continents, and Grand Prix Final champion, and he is the only undefeated male skater in the world for the 2017-2018 season. At the 2017 U.S. Championships, he broke a world record when he became the first skater ever to land five quadruple jumps in a single program. Sorry, I'm still trying to comprehend that and I'm honestly having a little bit of trouble. Chen in widely predicted to take home the gold for his event.
But Chen is not the only noteworthy athlete among the United States men's figure skaters. The USA Team also includes Adam Rippon, a 28-year-old skater from Los Angeles. The third member of the men's figure skating team for Team USA is Vincent Zhou, just 17 years old, who took third place at the 2018 figure skating national championships. All-in-all, it's a pretty impressive group.
Whether you're watching the figure skating via streaming service or on NBC at prime time, I feel fairly confident that you're in for a really good show. I'm feeling confident that Chen will take home the gold, but as the oldest singles figure skater in the competition, I have to admit I'll be rooting hard for Rippon as well. I guess we'll just have to see how it all lands in the next couple of weeks (see what I did there?).
Check out Romper's new video series, Romper's Doula Diaries:
Watch full episodes of Romper's Doula Diaries on Facebook Watch.