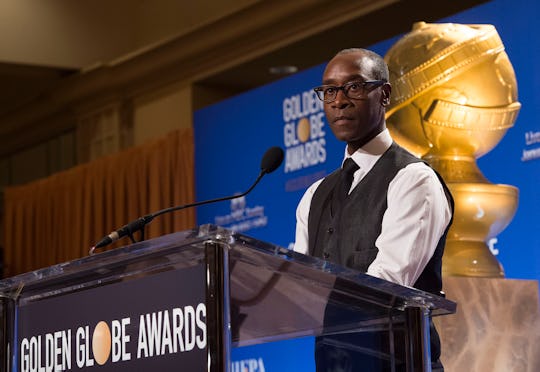 VALERIE MACON/AFP/Getty Images
Be Sure To Tune In For The 2017 Golden Globes
Are you ready for awards season? The Hollywood Foreign Press is starting off the festivities with the 74th Golden Globes on Jan. 8 and I can't wait. The ceremony will be hosted by The Tonight Show's Jimmy Fallon, who's hilarious, and the list of presenters is just as star-studded as the nominees. It's already become clear this will be a night to remember and you definitely won't want to miss it. So what channel is the 2017 Golden Globes on? The awards ceremony will air on NBC, as it does every year.
The awards show will air on the cable network on Sunday, Jan. 8 beginning at 8 p.m. ET. However, if you'd like to get an early look at the stars before any awards start getting handed out, you can tune in to NBC at 7 p.m. ET to see the Golden Globes Arrival Special. During the special, you'll get a look at some behind-the-scenes coverage of the show and predictions about who'll take home those coveted Golden Globes. Unlike other award shows, the Golden Globes celebrates work done in both film and television, so there will be a lot to discuss on the red carpet with so many stars. It'll definitely be worth a watch and a nice way to settle in before the actual ceremony begins.
This past year, there's been a lot of great shows and movies nominated, however there are already favorites that are expected to walk away with plenty of trophies for their mantle. The movie musical La La Land is expected to sweep the awards for film, while HBO's new sci-fi drama, Westworld, is expected to do the same for television. Other top contenders include Moonlight, Manchester by the Sea, The Crown, Stranger Things, and People v. O. J. Simpson.
The Golden Globes were also applauded for how diverse the nominations are this year. Many people of color were nominated, including Aziz Ansari, Tracy Ellis Ross, Issa Rae, Mahershala Ali, Viola Davis, Kerry Washington, Thandie Newton, Gina Rodriquez, and Sterling K. Brown, just to name a few. So not only with this year's Golden Globe award be fun to watch, it could also be a historic night for diversity in media, so you definitely won't want to miss it.
Make sure to tune into the Golden Globes on Jan. 8 to see all the action unfold. And since it's live, anything can happen!