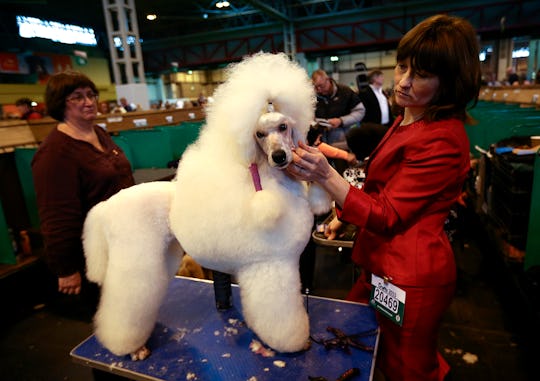 Carl Court/Getty Images News/Getty Images
Here's Where You Can Watch The 2018 National Dog Show This Thanksgiving
Every time you need a break from cooking and/or stuffing your face this Thanksgiving, look no further than your TV for some relaxing, quality programming. There's the Macy's Thanksgiving Day Parade, the football game, and, the cutest of them all, the National Dog Show! So before Thursday rolls around, you may be wondering what channel the 2018 National Dog Show is on. Here's everything you need to know about watching the annual puppy-licious event.
This year, the 17th Annual National Dog Show will air on NBC. So on Thanksgiving Day, Thursday, Nov. 22, tune into NBC at 12 p.m., in all time zones within the United States, to catch a bunch of doggos doing their thing. The show has actually already been filmed — audiences gathered in Philadelphia all day long this past Saturday and Sunday to cheer on the competing dogs. It seems like NBC edits the 18-plus hours of footage into two hours, which is fair, considering how busy most people are on Thanksgiving day.
If you don't have a TV, fear not — there are a few options for streaming the National Dog Show as well. Dog shows may not technically be a sport, but the event will be available to live stream via the NBC Sports app. Also, if you miss you it on Thanksgiving Day, NBC will re-air the entire event on Nov. 24 at 8 p.m.
According to the National Dog Show's website, John O'Hurley (aka Elaine's boss J. Peterman on Seinfeld) has hosted the show since its inaugural year in 2002, and he is hosting again this year. David Frei, who has also been with the show since 2002, will serve as co-host and expert analyst; Mary Carillo, who has been with the show since 2010, will serve as a correspondent; and United States Olympic figure skaters Tara Lipinski and Johnny Weir will also offer behind-the-scenes commentary, as TV Insider noted.
In an interview with Parade this week, O'Hurley said that the National Dog Show is his favorite day of the year. "I think there's something in it for everybody here. And there isn't much programming anymore that really hits all of our mass audience from ages 4 to 94," O'Hurley told Parade. "This is something that everybody can watch. It's a friend to everybody. It's wonderful family entertainment on the best family day of the year."
Last year, the prestigious Best in Show award went to an adorable Brussels Griffon named Newton, as Entertainment Weekly reported. At the time, Newton made headlines for bearing similarities to Chewbacca from Star Wars. I mean, LOOK how cute he is:
As explained on the National Dog Show's website, here is how the judging portion of the show works:
The judges examine the dogs and place them according to how closely each dog compares with the judge's mental image of the perfect dog as described in the breed's official standard. The main consideration is the dog's conformation or overall appearance, temperament and structure. The judges are looking for characteristics that allow the dog to perform the function for which his or her breed was bred.
The show is certainly entertaining and may inspire you to bring a pup into your life, but before you go shopping, remember that there are thousands of adorable shelter dogs up for adoption, according to the ASPCA, and they'll be just as loving and entertaining as those talented doggos showcased at Thursday's National Dog Show.