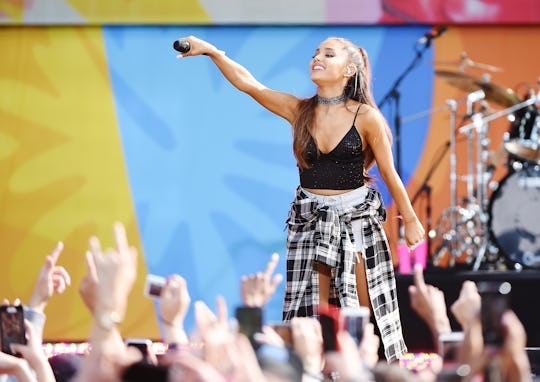 Nicholas Hunt/Getty Images Entertainment/Getty Images
These Channels Will Carry The Ariana Grande Benefit Concert
Weeks after a devastating terror attack outside of an Ariana Grande concert in Manchester, England, and less than 24 hours after an attack in London, musicians are coming together to spread a message of positivity and hope. On Sunday, Ariana Grande is hosting a benefit concert in Manchester to raise money for the victims of the Manchester attack. The concert is one that people won't want to miss, and for the majority of people who aren't in attendance, they'll want to know what channel the Ariana Grande benefit concert is on or where to watch it if they're not in the United Kingdom.
Luckily there are plenty of ways to catch the concert, One Love Manchester, on Sunday without a passport or a highly coveted ticket. It will definitely be a program that you'll want to tune in for, since, according to the BBC, the concert now has a "greater purpose" after the London attack.
Various networks (and websites) will be airing One Love Manchester throughout Sunday. Freeform (formerly ABC Family) will air the concert live from Manchester starting at 2 p.m. Eastern Time. If you're more of a night owl, ABC will air a special one-hour highlight of the best parts from the concert after the NBA Playoffs tonight.
If the TV isn't your thing, there are plenty of ways to watch One Love Manchester online. One Love Manchester will be available to stream on Facebook, Twitter, and YouTube, and will be accessible through Ariana Grande's respective accounts on each of those websites.
There is really no excuse to not tune in Sunday to watch the concert. Grande herself will be performing for the first time since the Manchester attack, in addition to an amazing lineup with artists like Miley Cyrus, Justin Bieber, Black Eyed Peas, Robbie Williams, Katy Perry, Coldplay, and countless others.
Tickets to One Love Manchester are highly coveted. When the 45,000 available concert tickets went on sale Thursday, according to E! News, they sold out in under 6 minutes. Thankfully if anyone missed out, they'll still be able to take in the show from the comfort of their own home (although watching the concert in person will undoubtedly be an amazing experience).
By attending in person or tuning in to One Love Manchester on TV, fans will be sending a powerful message of strength in times of despair. This concert will bring people together from all over the world — both metaphorically and in a very literal sense — and that unity is something we could all use right now.