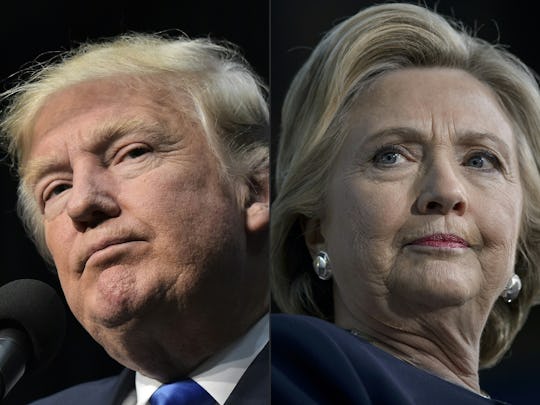 MANDEL NGAN/AFP/Getty Images
What Channel Is The Election Coverage On? Nearly Every Major Network Is Airing It
The 2016 presidential election has been historic in more ways than one. Undoubtedly, it's been a particularly troubling race, as the Democratic candidate Hillary Clinton and the Republican candidate Donald Trump haven't exactly minced words when it comes to attacking one another's qualifications for holding the highest office in the country. But that's all coming to an end tonight, when the final votes will be tallied up and the next President of the United States will be announced. So if you're wondering what channel the election coverage is on, you're in luck – it's airing just about everywhere you can imagine.
As has been the case for the past few presidential elections, coverage on election night will be widespread, with the final tallies from each state rolling in throughout the night as the two candidates each race to 270. There are plenty of viewing options, whether you're intending to keep your eyes glued to the screen all day long or have had just about enough of this election and only want to tune in for the night-ending speeches – in which Trump will maybe-or-maybe-not concede if he does, indeed, lose.
Broadcast networks NBC, CBS, ABC, FOX, Univision, Telemundo, and PBS will all be airing election night coverage, each starting a few hours before the polls close. Among the cable TV options, others like FOX News, CNN, MSNBC, FOX Business Network, CNBC, Bloomberg TV, and C-SPAN will all be covering the election, several with "wall-to-wall coverage from first vote cast to last concession speech (and then some)."
If you're interested in watching coverage outside of the usual political commentators and correspondents, Lifetime is airing a special "The View Live Election Special" starting at 9/8c, which will have The View's hosts covering the news and discussing their opinions. Comedy Central will also have live coverage on The Daily Show beginning at 11/10c. Even Showtime has given the always-hilarious Stephen Colbert his own special "Stephen Colbert's Live Election Night Democracy's Series Finale: Who's Going to Clean Up This S–t," which is set to start at 11/10c. MTV is on the election beat as well, airing New York-based coverage live from their studios in Times Square.
If you're partial to choosing your channel based on who's anchoring, each of the networks has released the details of who will be at the helm for their respective coverage. Politico has the full rundown of who is anchoring coverage of the 2016 election on what network. Some big names include Lester Holt on NBC, Megyn Kelly on FOX News, Wolf Blitzer and Anderson Cooper on CNN, Brian Williams, Rachel Maddow, and Chris Matthews on MSNC, and George Stephanopoulos on ABC.
Given that many Americans have cut their cable in favor of online-only TV watching, it's no surprise that just about every channel is also offering free live streaming of their election coverage. Even Buzzfeed is getting in on the action, partnering with Twitter to provide live video coverage from its New York offices.
But no matter where you choose to watch, one thing's for sure – you definitely won't be hunting for options.