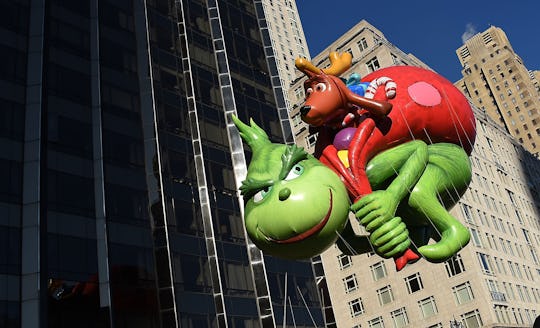 Michael Loccisano/Getty Images Entertainment/Getty Images
Everything You Need To Know To Watch The Macy's Thanksgiving Day Parade
It's a Turkey Day tradition for many families to get up, grab some breakfast and watch all the action in the Big Apple. So if you're trying to plan ahead a bit, you might want to first figure out what channel the Macy's Thanksgiving Day Parade is on this year and what you can expect from the event in 2018.
To start with, of course, you'll need to know where to tune in: The 92nd Macy's Thanksgiving Day Parade airs on Thursday, Nov. 22 starting at 9 a.m. ET on NBC, according to Entertainment Weekly. Hoda Kotb, Savannah Guthrie, and Al Roker are anchoring one of the largest parades ever, including 16 giant character balloons, 43 novelty balloons, 26 floats, 1,200 cheerleaders and dancers, over 1,000 clowns and 12 marching bands, as Entertainment Weekly reported.
Parade viewers will also get to see live performances by the Barenaked Ladies, Martina McBride, Rita Ora, the Muppets, Sugarland, Ashley Tisdale, Mackenzie Ziegler and others, according to People. But don't worry, Broadway will also be feted on the parade route, with the casts of Head Over Heels and Dear Evan Hansen representing the Great White Way, according to Playbill.
When it comes to TV and movies, the kids won't fail to recognize such popular characters as Pikachu, the Grinch and the Power Rangers, according to Entertainment Weekly. And no Thanksgiving parade in memory has gone off without the Pillsbury Doughboy character floating down the street, the news outlet added.
The parade route, mapped on Macy's website, is a 2.5 mile slice of New York City starting at W. 77th Street and Central Park West before heading to Central Park South and 6th Avenue, eventually concluding, per tradition, at Macy's Herald Square location in Central Manhattan.
Although this year's parade, and high-profile celeb lineup, make it sound like one of the best years yet to watch the event, the parade wasn't always the must-see TV it is today.
After going public in 1922, R. H. Macy & Co. started to acquire competitor stores and open more locations, according to History. Meanwhile, with the Roaring Twenties in full swing, Macy's flagship store in Herald Square was so popular that it expanded in 1924 to cover an entire city block, as History added.
It seemed natural that the booming brand would branch out, and on Nov. 27, 1924, Macy's kicked off its tradition with a two-block "Christmas Parade" starting in Harlem, according to History.
Today, the parade attracts more than 3.5 million people to the New York City streets, according to NYC Tourist, with some 50 million viewers nationwide. The parade has been in operation ever since those humble beginnings back in 1924, except when it was suspended between 1942 and 1944 as World War II raged, as NYC Tourist noted, even continuing on just days after John F. Kennedy was tragically assassinated in 1963.
Decades later, the parade is one of those institutions people can't imagine American life without. From Buzz Lightyear to Spider-Man to Hello Kitty, all your kids' favorite characters will be represented during next week's festivities, and you won't want to miss it.
And if you don't have cable, no need to worry. According to Country Living, you can enjoy the parade on Verizon's YouTube channel or log on to nbc.com/live or the Watch NBC app.