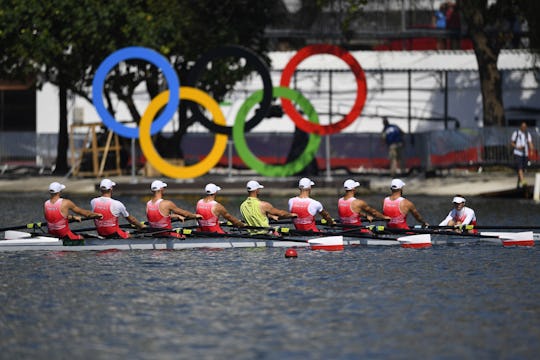 DAMIEN MEYER/AFP/Getty Images
What Channel Is The Olympics Opening Ceremony On? It's An Exciting Start To The Games
It's here. After all the buzz surrounding the Olympics, the 2016 Summer Olympic Games kick off Friday night. And if you're a fan of the Games, then you'll want to be sure to not miss the opening ceremony. So, what channel is the Olympics opening ceremony on? NBC has you covered.
The opening ceremony for the games will air on NBC on Friday Aug. 5 at 7:30 p.m. Eastern Time. The ceremony will stream on NBC with a one-hour delay on the East Coast, and a four-hour delay on the West Coast. As for online streaming, the ceremony will be streamed on the NBC Sports app and on nbcolympics.com, NBC reported.
The much-anticipated opening ceremony follows controversy that has surrounded Brazil hosting the Games, from construction problems, politics, poverty, and crime rates, to fears of Zika virus spread.
Fernando Meirelles, a film director who directed 2002 Brazilian film City of God, is one of the three creative directors for the ceremony, NPR reported. With a tight budget and a decent amount of negative coverage surrounding the Games being in Brazil, Meirelles told NPR that he hopes the opening show will be uplifting. "I hope that the Opening Ceremony will be a drug for depression in Brazil," he said. "Brazilians can look at it and say we are a cool people, we are different ethnic groups, we live together, we never went to war, we are peaceful, we know how to enjoy life and we tend to be happy."
According to NPR, highlights from the Opening Ceremony will include giants of Brazilian pop, Caetano Veloso and Gilberto Gil, pre-teen rapper MC Soffia, and supermodel Gisele Bundchen.
Back in September, Meirelles told the Daily Beast that, due a lower budget, the opening ceremony for the Games in Brazil won't be as extravagant as it was in Beijing or London.
We have a very interesting concept for the opening, but it won't be an extravaganza like Beijing or London. Our budget is 20 times less than Beijing! So we're really struggling to be consistent, with no money.
But Meirelles explained that, although it won't be "big," their goal is to make the ceremony "entertaining."
We're not trying to be big, because it's impossible—to be big, you need money. So we're trying to be entertaining with a concept. It's more about the idea than the money, to have a consistent concept that matters to the whole world.
After all the attention the Games has received, it will certainly be interesting to see how the Opening Ceremony will set the tone.