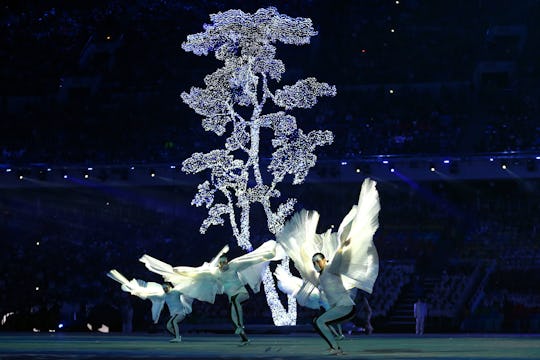 Ryan Pierse/Getty Images Sport/Getty Images
Here's Where You Can Tune Into The Winter Olympics Opening Ceremony
The 2018 Winter Olympics kick off Friday, Feb. 9 and although excited viewers can tune into an online live stream beginning at 6 a.m. ET if they so chose, the 15-hour time difference between PyeongChang, South Korea and the United States might make it easier to watch primetime coverage on a tape delay. Viewers who are tuning in the old-fashioned way might be wondering: what channel is the opening ceremony on? Per usual, NBC is the official host network of the 2018 Winter Games.
They've consistently upgraded their streaming capabilities over the past few Olympics, so you can also watch the big event via NBCOlympics.com, or on the NBC Sports app, which can be accessed via Roku, Amazon Fire, and Apple TV, as well as other mobile devices. Primetime coverage starts at 8 p.m. ET and is scheduled to run a tight two hours, Parade of Nations and all.
Unlike the 2014 Winter Olympics in Sochi, which were plagued by 50-degree temperatures constantly undermining events that required snow and ice, PyeongChang is currently experiencing single-digit temps, making conditions for the outdoor athletes pretty brutal. Ralph Lauren even designed high-tech battery-operated heated parkas for the U.S. athletes to wear during the Olympics opening ceremony. The open-air PyeongChang Olympic Stadium is shaped like a pentagon, with the stage in the middle, leaving spectators and athletes alike to withstand frigid temperatures.
According to Reuters, wind chill inside the venue will make it feel like it's 7 degrees Fahrenheit during the opening ceremony. Organizers are reportedly working on ways to prevent hypothermia, which include passing out heat packs and blankets to attendees and speeding up security checks.
Hosting the opening ceremony this year will be fresh slate of anchors, replacing the usual Today Show hosts who typically lead the coverage. Former Today Show host and Olympics reporting veteran Katie Couric will return to NBC to anchor the event. She's previously anchored the Today Show through six Olympic Games, and hosted the opening ceremony in Sydney, Salt Lake City, and Athens. So yeah, she kind of a pro at this by now.
She'll join ESPN's Monday Night Football alum Mike Tirico, who relieves Bob Costas of his primetime hosting post of 25 years. After 11 Olympics' worth of coverage, Costas stepped down last year. And rounding out the opening ceremony trio of hosts is Joshua Cooper Ramo, a correspondent who covered geo-political and cultural news for NBC during the 2008 Summer Olympic Games in Beijing. He'll provide cultural context for the symbolism used throughout the host nation's show.
Although she won't be an official host throughout the evening, fans will be glad to know that SNL star and Olympics super fan Leslie Jones is being sent to PyeongChang to act as an Olympic commentator for her second games in a row — a gig she basically scored via her hilarious live-tweeting during primetime events.
The newly built PyeongChang Olympic Stadium holds 35,000 people but it will only be used four times, according to Time, before being torn down. PyeongChang Olympic Stadium will be the site of the opening and closing ceremonies for this year's Winter Olympics and Paralympics, and that's it.
The opening ceremony is expected to highlight the history of Korean culture along with contemporary elements like K-pop performances from the region's biggest acts. I wouldn't mind a tribute using giant dancing sheet masks to honor my personal favorite part of Korean culture, but it remains to be seen whether skincare will make the cut as a featured cultural export.
Check out Romper's new video series, Romper's Doula Diaries:
Watch full episodes of Romper's Doula Diaries on Facebook Watch.