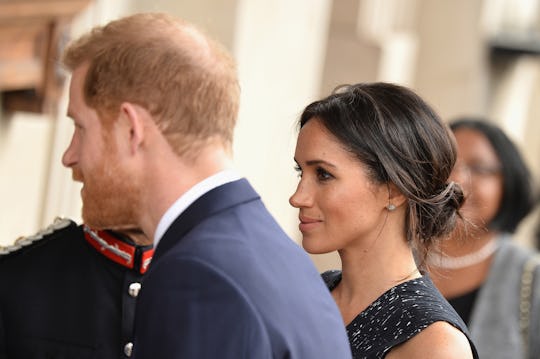 Jeff Spicer/Getty Images Entertainment/Getty Images
Here's What Channel The Royal Wedding Is On, Because You Won't Want To Miss It
The event of the year (maybe even the event of the decade, honestly) is just around the corner and people from all over the world are gearing up to tune into the big day. Whether you'll be waking up bright and early to watch the full spectacle, or waiting to watch the recap later on, knowing what channel the royal wedding is on in the United States is pretty important. After all, it's kind of a big deal that an American actress is marrying into the royal family. And Meghan Markle isn't just marrying some distant cousin or uncle.
Oh no, she's marrying a literal prince and someone in line to the throne. So, if someone starts to judge you for caring too much about the royal wedding, just kindly remind them that it's a historic event, and to back the heck off, OK?
OK, now, back to the important stuff. Obviously, if you want to watch the royal wedding live in America, you're going to have to sacrifice some sleep. Yes, for all those wondering, coverage of the royal wedding will begin at about 4 a.m. EST on a variety of networks including PBS, CBS, MSNBC, NBC, BBC America, Fox, ABC, and E!.
Additionally, there will also be several options for streaming the royal wedding, because not everyone has access to cable. However, as previously mentioned, almost all of the main news and entertainment networks will be airing the big event, so it's really up to you to decide which option works best for you. But to break it down, here's what each network is offering, in terms of programming.
NBC
If you're a fan of NBC's The Today Show, then you're in luck. Not only will the show be airing the wedding on Saturday, but hosts Savannah Guthrie and Hoda Kotb will "begin their live coverage on the wedding beginning at 4:30 a.m. EST from a special vantage point overseeing the castle," according to The Today Show website.
CBS
Another viewing channel for the royal wedding is CBS. According to CBSNews.com, "CBS This Morning co-host Gayle King and Entertainment Tonight co-host Kevin Frazier will anchor the coverage from Windsor Castle." CBS's coverage of the nuptials will begin at 4 a.m. EST.
Fox
Additionally, if you're a fan of Fox News' morning show, Fox & Friends, then you'll be pleased to know that Fox News' coverage of the events will be lead by "chief news anchor Shepard Smith and co-anchor of America's Newsroom Sandra Smith from outside St George's Chapel at Windsor Castle beginning at 6 a.m. EST," according to a press release from Fox.
ABC
Of course, Good Morning America and ABC News will also be sending over a crew to cover the day's happenings. Per ABCNews.com,
ABC News and GMA will have special coverage from 5 to 10 a.m. ET live from Windsor, England. GMA co-anchor Robin Roberts and World News Tonight anchor David Muir, along with a team of reporters and royal experts, will have live updates and colorful commentary from Windsor and London.
E! News
Perhaps unsurprisingly, E! News will also be airing royal wedding coverage. According to Town & Country, the E! Live From The Royal Wedding Special will feature "hosts Giuliana Rancic, Brad Goreski, Sarah-Jane Crawford, and royal expert Melanie Bromley will start at 5 a.m. Eastern on May 19."
Clearly, there are plenty of options out there if you want to watch the royal wedding. Really you just have to be willing to get up early and sit through a few hours of traditions and processions that you might not understand. In the end, though, it'll be worth it.