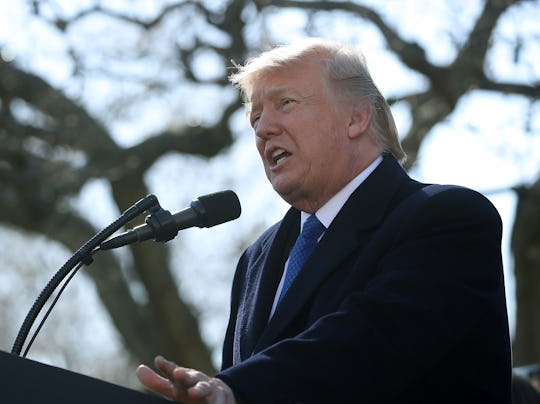 Mark Wilson/Getty Images News/Getty Images
Here's Where You Can Watch Trump's State Of The Union On TV
If you happened to miss the announcement, President Donald Trump will soon be delivering his first-ever official State of the Union address to Congress. And guys, the big day is just around the corner — in exactly one week, on Tuesday, Jan. 30. Although our president has already addressed a joint session of Congress last February, his upcoming speech will still technically be the first official State of the Union address. But what channel is the State of the Union on? It won't be too difficult to find, that's for sure.
As USA Today reported, the date was set for Trump's Jan. 30 speech following an invitation from House Speaker Paul Ryan, per tradition. "We are in the midst of a historic effort to provide relief to hardworking taxpayers, grow our economy, and rebuild our military for the 21st century," Ryan wrote in the invitation letter, according to the publication. "Looking ahead, the new year will bring an opportunity to take account of the progress we have made but also lay out the work that still remains to be done on behalf of the American people." Whether or not people support President Trump's agenda, millions of people will likely be tuning in to see what he has to say. (Drinking games are optional.)
Although all members of Congress are typically in attendance for State of the Union addresses, a few Democratic Congress members have made it a point to sit this one out. In fact, The Atlanta Journal Constitution reported that five Democrats have already confirmed they will not be in attendance. These Congress members include: Rep. John Lewis of Georgia, Rep. Frederica Wilson of Florida, Rep. Earl Blumenauer of Oregon, Rep. Maxine Waters of California, and Rep. Pramila Jayapal of Washington, Fortune reported. The reason for their planned absence? The alleged racial slur (remember his "sh*thole countries: remark?) about immigration made by Trump. Here's what Jayapal had to say about her decision.
Apparently, there are plenty of others from across the nation who are planning on boycotting Trump's, speech, too. "I will not be watching Trump's State of the Union address on Jan. 30th," one person wrote on Twitter. "It'll likely be a rambling, incoherent mess, randomly interspersed w/lies, hate, propaganda & praise for himself." Another person tweeted, "I would rather eat thistle, than watch the Agent-White Russian, State of the Union." LOL. Brutal, man.
Another Twitter user made an interesting suggestion for a "special guest" to be invited to the big event. "Let us all hope for the sake of the Trump reality show presidency that the Democrats offer Stormy Daniels and friends a rose & ask her to attend the State of the Union. Seated right in the front row. Priceless." Whoa. That may be taking it a bit too far, guys. (I'd still love to see the reaction, though.)
For the remaining female Democrats who will be attending Trump's speech in front of a joint session of Congress, you can expect a dress code that aims to make a statement. Led by House Minority Leader Nancy Pelosi, a Democrat from California, female democrats have expressed they will be wearing black to show their support for the #MeToo movement. "This is a culture change that is sweeping the country, and Congress is embracing it," Democratic Rep. Jackie Speier, also of California, told HuffPost. Speier went on to explain that she and the Democratic Women's Working Group are inviting men and women, regardless of political affiliation, to join them in making a statement during the State of the Union address.
If you're not planning on boycotting the State of the Union address, it'll be extremely easy to find. Trump's speech will air live starting at 9 p.m. Eastern Time on Tuesday, Jan. 30 on all major cable and news networks, according to AJC. (So basically, just turn on your TV, flip it a few channels either way, and you're bound to find it in like 2 seconds.) The address will also be live-streamed from the White House YouTube channel for those who don't have access to a television. The countdown is on!
Check out Romper's new video series, Romper's Doula Diaries:
Watch full episodes of Romper's Doula Diaries on Facebook Watch.