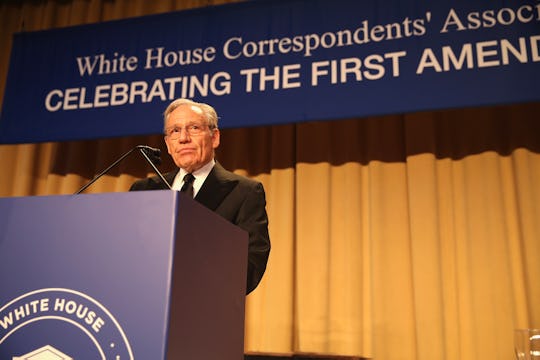 Tasos Katopodis/Getty Images Entertainment/Getty Images
Here's How To Watch The White House Correspondents' Dinner
This weekend, journalists and comedians will head to Washington, D.C. to participate in a time-honored tradition while their president covers his ears and screams "La, la, la, la, I can't hear you!" in another state. If you're what channel the White House Correspondents Dinner is on, you've got options, even if you've given up cable. The festivities will be aired live on Saturday, Apr. 28 at 9:30 P.M. Eastern on C-SPAN and CNN, and will also be simulcast on C-SPAN's website for those who have a cable subscription (or their friend's login), and on YouTube, free of charge.
In the past, the event has been an opportunity to honor journalists while also humanizing the president — who can forget President Barack Obama's "anger translator," Luther? — but in the last two years, it's morphed into something a little different, thanks to a leader who, well, let's just say he didn't earn a check-plus in "Works well with others." Last year, during the first White House Correspondents Dinner of his term, he was in Pennsylvania holding a campaign rally, despite having just successfully completed his campaign a few months earlier. I'm gonna have to give him a check-minus for "Responds well to criticism" for that, as well, I'm afraid.
Trump preferred to surround himself with well-wishers rather than respected journalists, whom he's characterized as "the enemy of the people," making him the first president since Ronald Reagan to skip the White House Correspondents Dinner, according to the Telegraph. The event has been held annually since 1921, but Reagan had a pretty good excuse not to attend in 1981, as he was recovering from an assassination attempt at the time. Trump, meanwhile, was only recovering from a completely made-up character assassination in 2017.
The New Yorker postulated that Trump's real reason for not attending last year was that it was a "petulant power play—his attempt to cater to his anti-élite base and spoil the party at the same time." Or perhaps, writer Ian Crouch mused, his appearance at the 2016 Al Smith Dinner had soured him on any future attempts at humor; Crouch wrote that Trump "delivered jokes with the meanness of Don Rickles but none of the charm," and indeed, he was met with clear disapproval from the audience.
This year, he'll once again skip the event, instead opting for a self-congratulatory rally in campaign rally in Washington Township, Michigan, according to CNN. Trump campaign chief operating officer Michael Glassner's press release is dripping with bitterness:
While the fake news media will be celebrating themselves with the denizens of Washington society in the swamp that evening, President Trump will be in a completely different Washington, celebrating our national economic revival with patriotic Americans.
You mad, bro?
This year's host, The Daily Show's Michelle Wolf, isn't disappointed that Trump won't be there, however. As she told The Hollywood Reporter, "He's terrible, because you can't joke a joke." Everyone thought comedians' jobs would be so much easier with Trump in office, but the truth is, there comes a point when things are so surreal, so bleak, that it's just not funny anymore. We can debate just when that point arrived, but clearly, it has.
Wolf's duty as White House Correspondents Dinner host is noteworthy, as she's only the fifth woman who's ever been asked to do so. Paula Poundstone was the first in 1992, followed by Elayne Boosler in 1993, Wanda Sykes in 2009, and Celecily Strong in 2015. Interestingly enough, Boosler drew ire for a joke aimed at the first President Bush that's still relevant today. With regards to his opposition to an automatic weapons ban, Boosler said, "I think if you need a hundred rounds to kill a deer, maybe hunting isn't your sport," THR reported. Can't wait to hear Wolf's take on this 25-year-old problem.