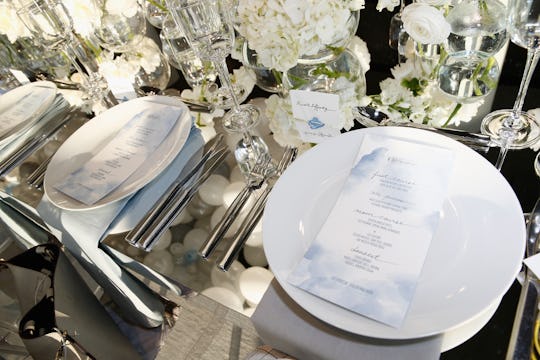 Brian Ach/Getty Images Entertainment/Getty Images
Watching The WHCD? Tune Into This Channel
The annual White House Correspondents' Dinner is one of the most prestigious events in Washington, D.C. Typically, the dinner is attended by members of the White House Correspondents' Association, journalists, and the president himself. The evening is used to honor journalists who have done extraordinary work, as well as award scholarships to promising journalism students. Usually, speakers poke some good-hearted fun at the president and alleged White House "scandals." This year, though, things are different. And with all the craziness, many are wondering: What channel is the White House Correspondents' Dinner on? It's a highly-anticipated event, but only one channel will be covering it completely.
This year, the WHCD will be covered by C-SPAN, and also streamed to its website live. However, the dinner, which takes place on Saturday, April 29, isn't the only high-profile event happening then. Full Frontal's Samantha Bee will be hosting the first-annual "Not The White House Correspondent's Dinner," also held in Washington, D.C., though President Trump won't be in attendance at either one of those events.
Instead, Trump will be attending his own rally in Pennsylvania, the first time a president hasn't attended the WHCD in 36 years. So yes, this year is particularly interesting, but you'll only be able to watch it live if you have C-SPAN it seems.
C-SPAN has long been the broadcaster of the WHCD, although MSNBC has also streamed the event in the past. According to Entertainment Weekly, "The event will stream live on C-SPAN beginning at 9:30 p.m. ET/6:30 p.m. PT." And while you may not be able to watch it as it happens if you don't have C-SPAN in your cable package, or access to a computer, the event will likely be a trending topic on Twitter that evening, meaning that you'll be able to at least get a general understanding of what's happening. And maybe even some clips and gifs as well.
Headlining this year's WHCD will be comedian Hasan Minhaj, who's definitely going to deliver some killer jokes that you won't want to miss. Minhaj is "a brilliant comedian and Senior Correspondent on Comedy Central's The Daily Show with Trevor Noah according to the WHCA. But if the more formal event isn't really your scene, Samantha Bee's program might be just for you. The satirical take on the WHCD will air on TBS and will be live-streamed on Twitter, so just about everyone will be able to watch it.
As the United States is becoming seemingly more divided in the wake of this new administration, this year's events surrounding the WHCD are more important than ever, as a free press is one of the longest-standing tenants of democracy. Watch if you can, and then speak out in its defense, accordingly.