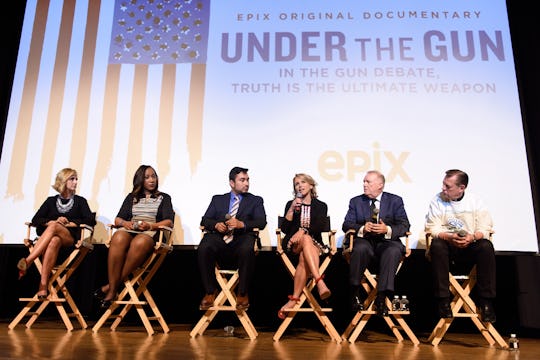 Daniel Boczarski/Getty Images Entertainment/Getty Images
What Channel Is 'Under The Gun' On? The Gun Violence Documentary Will Air Saturday
Gun violence is an incredibly controversial and pressing issue, especially in 2016. Every time you turn on the television it seems like there is a new news story that has to do with the sale of guns or the use of guns in a violent act. Journalist, Katie Couric brings attention to all of this in her new documentary, Under The Gun which airs on Sunday May 15 at 8 p.m. It will definitely be a documentary you'll want to watch, but what channel is Under The Gun on?
But first, a refresher on what Under The Gun is about. According to the documentary's official website, Under The Gun examines "the events and people who have kept the gun debate fierce and the progress slow, even as gun deaths continue to increase. Through the lens of families impacted by the mass shootings in Newton, Aurora, Isla Vista, and Tucson, as well as those who experience daily gun violence in Chicago, the documentary looks at why politicians are finding it difficult to act and what is being done at the state and local levels."
Wow. The film sounds incredibly impactful and I can't wait to watch it Sunday. But what channel can you watch Under The Gun on? The documentary will be airing on Epix.
I know what you're thinking — what is Epix and what channel is it on? Well, Epix is a TV network available through a bevy of cable providers, like DISH Network and Time Warner Cable. But Epix is a very special TV network because it plays movies 24 hours a day — like HBO's hipper, younger brother or like Netflix's cousin, but available through your cable provider.
If you do not have a cable provider but still want to watch Under The Gun, don't fret. Epix is offering a free trial through the end of May so you can watch the documentary and then use the trial to watch hundreds of other movies on the website. And you'll want to stick around. The website has titles like Ferris Bueller's Day Off and The Spongebob Movie — providing interesting alternatives to the movies you've watched thousands of times before on Netflix.
Participating in the free trial of Epix to watch Under The Gun will be worth it. The documentary currently has a 100 percent fresh rating on Rotten Tomatoes — which is incredibly impressive. The film also debuted at San Francisco Film Festival and Sundance Film Festival which are both highly esteemed.
Under The Gun will be a film people will be talking about for months to come and change the dialogue of the way we talk about guns. Therefore, look at your local listings and find Epix before Sunday at 8 p.m. You won't regret it.