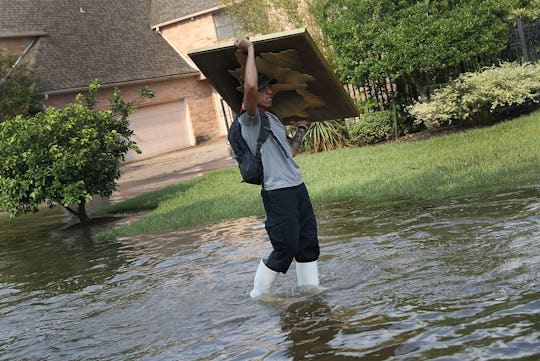 Joe Raedle/Getty Images News/Getty Images
These Cities Have Plans To Evacuate Ahead Of Hurricane Irma
It's only been just over a week since Hurricane Harvey devastated parts of Texas and Louisiana, and now Hurricane Irma is on its way. The Category 5 hurricane is already working its way through the Atlantic, with the potential to hit the Virgin Islands, Puerto Rico, and the rest of the Caribbean with "catastrophic force," according to the National Hurricane Center. So what cities are evacuating for Irma on the mainland? It's a little too early to tell exactly how powerful the storm will be once it makes its way through the Atlantic, but already Florida is starting to urge people out of areas that could be hit hard.
Tourists and residents have been ordered out of the Florida Keys starting Wednesday morning. Florida's most populated area, Miami-Dade County, might also have to be evacuated. According to The Washington Post, Miami-Dade County Mayor Carlos A. Giménez told 2.7 million residents to start stocking up on supplies, food, and water and warned that mandatory evacuations will likely be issued in the coming days, as experts watch the storm's path.
People with special needs are planned to be evacuated from the county starting on Wednesday. A state of emergency has already been declared by Florida Gov. Rick Scott for all counties in the state. And he's also activated the state's National Guard, which means all 7,000 of them will be available as of Friday.
According to The Miami Herald, Giménez said at a press conference on Tuesday:
This hurricane is far too powerful, poses far too great a threat, for us to delay actions any further. I would rather inconvenience our residents on this occasion than suffer any unnecessary loss of life if in fact we are hit by Hurricane Irma. It is still too early to know if we will take a direct hit.
After watching the effects of Harvey, Giménez is likely on the right track when it comes to making sure people are safe, even if the effects of the storm are still totally unpredictable. As of Tuesday evening, other cities didn't have planned mandatory evacuations, but that could change as officials learn more.
Deciding to evacuate a city is no easy task. Brian Wolshon, a transportation engineer who studies evacuations at Louisiana State University, told Wired that it's no wonder people are still debating whether Houston should have been totally evacuated before Harvey.
Legislators have to consider the costs of the city people are fleeing and the places people will end up. "Evacuations are enormously costly and disruptive, not just to the areas that are being evacuated but to the areas they're going to. It's a tough call to get right," he told Wired.
Although Florida is no stranger to tropical weather, Irma has been rapidly getting worse as it makes its way through the Caribbean. And after watching Harvey's assault on Houston, better safe than sorry takes on a whole new meaning when it comes to hurricanes these days.