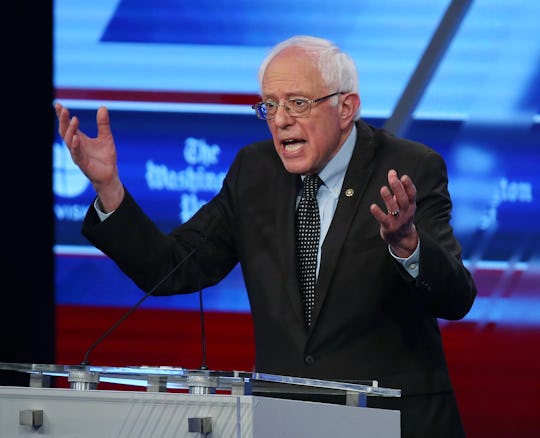 Joe Raedle/Getty Images News/Getty Images
What Color Is Bernie Sanders' Suit At The Democratic Debate? The Internet Can't Come To An Agreement
Wednesday's debate was contentious. The two Democratic candidates went head to head and answered some very tough questions from Univision reporters Jorge Ramos and Maria Elena Salinas . But there was no other issue greater than the color of Vermont Senator Bernie Sanders' suit. Was it brown? Was it navy blue? Why would you wear that tie given either color? Bernie Sanders is running his entire campaign on not caring at all about protocol for getting into Washington D.C. parties. He doesn't seem to want to fit in. And all of that is illustrated in the fact that he apparently has no stylist. Again and again, Sanders looks like somone who doesn't have any help in ironing or running to the dry cleaner when it comes to his suits.
That kind of fashion statement is totally in line with his politics. Sanders has been campaigning on being a man of the people. He told NPR on Wednesday:
There's no candidate who has talked more about poverty in this country than I have. White poverty, black poverty and Latino poverty. Now it would be nice if every once in a while the media paid attention to those issues, which we don't.
Sometimes a candidate needs to practice what they preach. But for some on social media, the candidate could pull it together just a little tighter.
They hit a lot of issues. But what color was Bernie's suit?
Questioning
Vote Brown
Vote Blue
It's Like The Dress
And Why Should You Care?
Sure, the color of Bernie's blazer is nothing when it comes to immigration reform or economic policies. But if there is anything to laugh about this election cycle, let it be the guy's suit. He's not laughing. But he's not not laughing either. His jacket was totally brown on Wednesday night, for what it's worth.