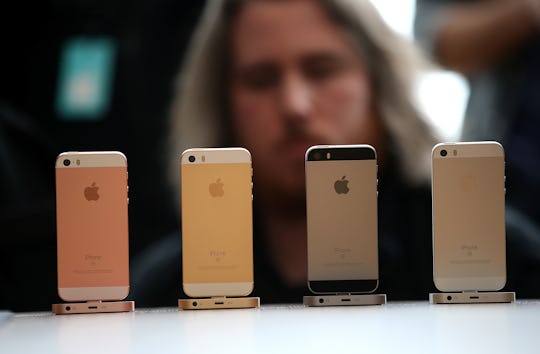 Justin Sullivan/Getty Images News/Getty Images
What Colors Will The iPhone SE Come In? Users Have 4 Options
The newest edition of the iPhone is smaller but no less powerful. At an event Monday, Apple formally announced the iPhone SE and detailed many exciting features designed to deliver a distinctive experience. Fans can expect upgraded capability, but they can also look forward to an array of new colors. But what colors will the iPhone SE come in? There are four options.
iPhone SE colors include "space grey, silver, gold, and rose gold," TechCrunch reported this week. The model will include "an inset stainless steel logo" and is still surrounded by glass, according to The Verge. The luxurious look is complemented by a suite of features designed to leave Apple fans salivating. The 16GB version comes with a $399 price tag; 64GB is a bit pricier at $499.
For anyone used to navigating the iPhone 6S' big screen, the latest edition will definitely be a change. CBS News reported on Monday that the iPhone SE measures in at just four inches — but that doesn't mean Apple is compromising on power, since it should have the same computing capability as the iPhone 6S. It won't be on sale until March 31, but orders for the iPhone SE can be placed as early as March 24, according to The Guardian.
The iPhone SE will have "Hey Siri" functionality, according to TechCrunch. This means users will be able to ask Siri a question anytime — she's always listening. The 12-megapixel camera is set to record 4K video and take Live Photos as well, which function like a gif, but only come to life when the user taps the screen (a Harry Potter fan's dream come true). It won't have 3D touch (meaning it won't respond to length or pressure of contact with the screen), but the SE will benefit from iOS 9.3 (also released Monday). The new system will include Night Mode (perfect for late-night texting and Instagram scrolling) and Notes unlocked using TouchID.
At the event, Apple also announced enhancements to existing apps with the new iOS. The Health app will now suggest apps to the user, allowing them to monitor data relevant to their lifestyle and fitness and nutrition goals. The News app will include top stories, trending topics, and editors' picks. Anyone in the market for a new vehicle can also look forward to CarPlay enhancements, including music recommendations based on user preferences and a Maps feature allowing drivers to easily find anything from the nearest gas station to the closest place to snag takeout.
The iPhone SE offers serious functionality in a smaller package. The colors are a sophisticated alternative to the candy-colored coatings of iPhones past. Though fans can still snap on a bedazzled case, the sleek finish and subtle tones allow the iPhone's natural beauty to shine through.