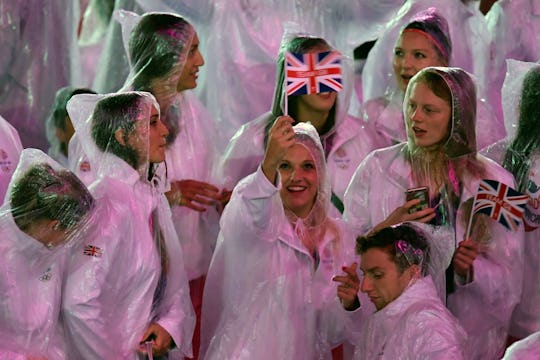 FABRICE COFFRINI/AFP/Getty Images
What Country Had Light-Up Shoes During The Closing Ceremony? Great Britain's Kicks Are Fly
At the closing ceremony for the 2016 Rio Olympics, one country literally lit up Maracanã Stadium with the red, white, and blue kicks. But it wasn't the United States team, which donned it's traditional preppy attire. So what country had light-up shoes during the closing ceremony? Great Britain took gold in the coolest kicks of the Games.
Fashioned by Accrington-based designer Simon Jersey, the custom made trainers were fitted with LED lights along the soles, which, in the darkened stadium, created a totally stunning visual effect. According to a spokesperson for Team Great Britain, the idea behind the shoes was to capture a little bit of the magic from the London-hosted Summer Games of 2012, while giving a nod to the future by incorporating wearable tech into its uniforms. Said the spokesperson to Mirror UK:
"Rio 2016 has been another great Games for the team and after the buzz of London 2012, we wanted to mark the Closing Ceremony with something a little different. Rio is known for its love of parties and carnivals and wearable tech is becoming more popular, so we thought the most fun and patriotic way to use this in the outfits is through lights. The athletes all loved the shoes and are looking forward to wearing them. We just hope they remember to charge them before the ceremony."
And it was pretty obvious that the athletes of Team Great Britain adored their special sneakers.
According to BBC, Great Britain closed out The 2016 Games with 27 gold medals, coming in second to the United States, which netted 46 gold medals overall. Team Great Britain's total medal count was also a respectable 67, coming in third behind Team USA's total medal count of 121, and China's total medal count of 70.
Its standout athletes included Mohamed Farah, who netted two gold Track and Field medals, male gymnast Max Whitlock, who took two golds in pommel horse and floor exercise and a bronze in the men's individual all-around, tennis player Andy Murray, who snagged a gold, and Jessica Ennis-Hill, who won a silver medal in the Women's heptathlon. Great Britain's women's field hockey team also took home a gold medal.
Hopefully they all saved places for their really cool foot swag in their home medals cases.