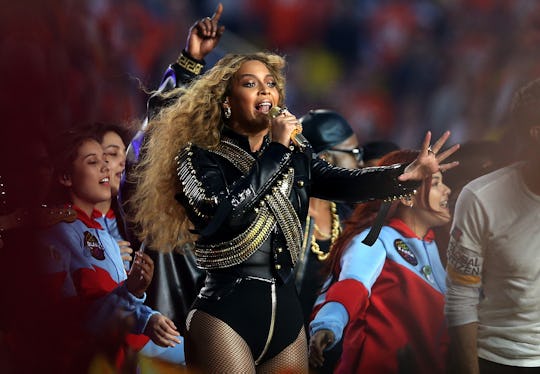 Patrick Smith/Getty Images Sport/Getty Images
What Day Of The Week Will Beyonce Drop Her New Album? She Loves Weekends
Beyoncé's next album has been looming over fans since she surprise-released "Formation" more than two months ago. Though there have been plenty of rumors about the album's name, theme, collaborators, and video accompaniment, there is still a big question mark: when will it come out? Her Formation Tour starts April 27, so if she wants to drop the album before the tour, that leaves less than two weeks. Since no one knows Beyoncé's plan except those in her inner circle, the best fans can do is guess. Guessing, as one might remember from the test-taking days, is often helped by process of elimination. So, how about this: what day of the week will Beyoncé drop her album? Let's look at the clues.
On that fateful day when Beyoncé released "Formation," it seemed like there was no other news to report. There was nothing bigger, nothing more earth-shattering, nothing more notable than this video and song that fans didn't even see coming. Why? Because in it, Beyoncé celebrates her blackness and calls attention to the racial inequality still rampant in America (plus, it's a great song). To a crowd expecting a pop tune, it seemed revolutionary, even rebellious. Saturday Night Live ran a skit the next weekend that showed post-apocalyptic chaos of white people losing their minds because they had just realized that Beyoncé is black.
That, of course, is satire, but it wasn't far off. She chose to release that video on Saturday, Feb. 6, 2016, the day before the Super Bowl, where she would perform in the Halftime Show. Most likely, she chose that day to get fans excited about her "Formation" performance.
And Beyoncé loves repetition. There's a good chance she'll release her album on a Saturday as well. There are only two Saturdays between now and the start of her Formation tour: April 23 and... Saturday (as in one day away).
Then again, releasing on a Saturday would break the pattern she's kept for the past three albums. She released I am...Sasha Fierce on Nov. 14, 2008, 4 on June 24, 2011, and Beyoncé on Dec. 13, 2013. What do those days have in common? They're all Fridays. Now, prior to Sasha Fierce, Beyoncé released her albums on different days of the week, but it seems likely she may stick with the pattern. Those albums did very well, so, why change? If she were to release her album before April 27, that only leaves two Fridays: April 22 and... right now.
Beyoncé clearly loves the weekend, so odds are good the album will finally be released on a Friday or a Saturday. But, if fans learned anything from the "Formation" release it's that Beyoncé revels in surprises, so who knows what she'll do.