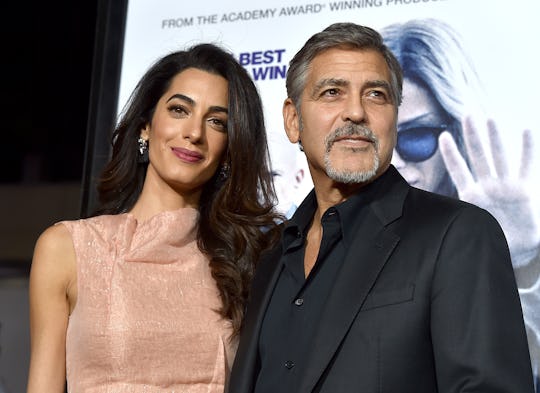 Kevin Winter/Getty Images Entertainment/Getty Images
What Did Amal & George Clooney Name Their Twins?
The first set of highly awaited celebrity twins are finally here! On Tuesday morning, the Clooneys welcomed the two children, a baby boy and a baby girl, according to the Associated Press. Fans had a bunch of questions — the most important being, of course, what did Amal and George Clooney name their twins? The couple chose to stay away from any wilder names and go with Alexander and Ella.
"This morning Amal and George welcomed Ella and Alexander Clooney into their lives," George's representative told People on Tuesday. "Ella, Alexander and Amal are all healthy, happy and doing fine. George is sedated and should recover in a few days."
Clearly, the couple also win for having the best announcement via rep ever.
According to People, the couple first shared their baby news in February, when George told Rencontres de Cinéma, "We are really happy and really excited. It's going to be an adventure."
It also sounds like Amal may have won the battle when it came to naming their twins. In March, George joked with Entertainment Tonight that she'd prohibited him from naming the kids after his tequila company. "My wife says I can't name them Casa and Amigos. That's the one thing I'm not allowed to do," the actor said at the time. "It was just a thought. I mean, you know, it's a family business."
Amal has kept fairly quiet about her pregnancy in public, focusing instead on her work as a human rights attorney in recent months. According to Entertainment Tonight, the couple kept a pretty low profile in the last few weeks leading up to the twins' birth, with their most recent public appearances taking place in April. Sources reportedly told Entertainment Tonight that the couple was staying at their home in Sonning, England, during that time, but no news has emerged on whether the twins were born in the United Kingdom. Romper reached out to the Clooneys' representatives, but did not hear back immediately.
Alexander and Ella are George and Amal's first children. The duo got married in September 2014 in Venice, Italy, according to People. They got engaged about six months after they began dating and, another six months after that, they were married. After that, George shot down pregnancy rumors at the beginning of 2016, before opening up to the public about Amal's pregnancy in early 2017.
Now we've only got to wait for Beyoncé and Jay Z to welcome their twins before we can start demanding adorable playdate pictures. Welcome to the world, Ella and Alexander!