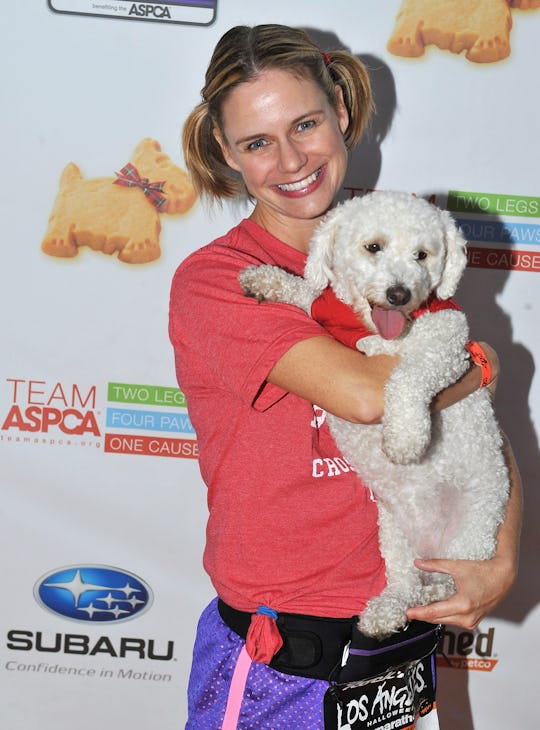 Angela Weiss/Getty Images Entertainment
What Did Andrea Barber Do After 'Full House'? She's Been A Super Busy Mom
You can't have Full House without Andrea Barber — or ,as America calls her, Kimmy Gibler. You know, D.J. Tanner's annoying best friend? But unlike many child stars who never leave the limelight. Barber's acting career took a hiatus after the show, and she seemed to have slipped off the radar. But, with Barber back as Gibbler in the new spin-off titled Fuller House, the question remains, what did Barber do after Full House?
Fuller House is headed for Netflix, but this will be the first time in a while Barber has entered the spotlight. But know, her social media accounts describe her as, "Gibbler, reinstated." In fact, although the Tanners could never get rid of the mischievous (but lovable) Kimmy, Barber dissapeared off the small screen completely when Full House ended. In 2013, The Huffington Post had a Skype chat with Barber and discovered she's now a full-time mom, she went on to receive a degree in English from Whittier College and a master's degree in Women's Studies from the University of York in England ... that certainly doesn't sound like Kimmy Gibler. And, if her Instagram is any indicator, exercise is a huge part of Barber's life.
Keeping fit and being a full-time mom to 9-year-old-son Tata and 6-year-old daughter Felicity is a full-time job itself. But, it seems Full House has never strayed far from Barber's heart. The crew got together and made headlines for a New Kid's On The Block "Step by Step" rendition.
And now, Barber is about to enter show business once again. Fuller House is set to premier on Netflix on Feb. 26. And all the original cast has signed on in some capacity, except for Mary-Kate and Ashley Olson. And although John Stamos (Uncle Jessie) is not in the main cast, he confirmed that he will guest star from time to time and will have a role as a producer. The characters might be the same, but the premise sure is different.
Prepare to enter a time warp — one in which it takes a minutes to get over the shock before you can actually decided whether you like it or not. Yep, they're not teenagers anymore. In fact, in Fuller House, D.J. Tanner-Filler shares a home with her sister Stephanie and friend Kimmy who help raise her three boys. You heard that right... D.J.'s three boys. Now, just get past the, "Ack, I feel old," moments, and prepare for Fuller House to deliver nostalgia in the best possible way.