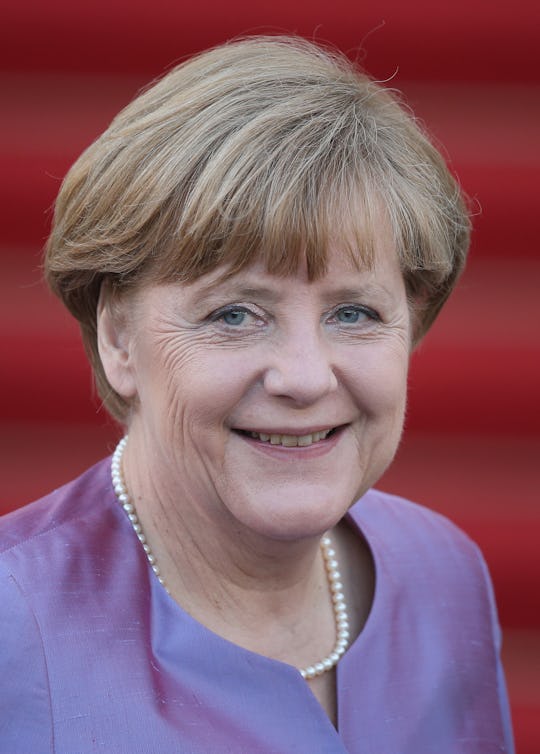 Sean Gallup/Getty
What Did Angela Merkel Do To Become 'TIME's Person Of The Year? A Lot
It's been a tumultuous year in many parts of the world, but especially in Europe, and no one has navigated 2015's biggest challenges like one particular European official. It's not surprising, then, that German Chancellor Angela Merkel was crowned TIME's Person Of The Year. The long-standing leader of the world's fourth largest economy has handled debt crises and fears of economic collapse in the European Union, coupled with the very-real threat of global terrorism. She's dealt with millions of displaced refugees coming up against an ever-growing number of closed borders from countries unwilling to take them in. She's stood up to the rising tide of Islamophobia and the instinct for countries to become insular, to stop reaching out to others in favor of protecting their own. And she's done it without ever being seen as the type to ruffle too many feathers.
Merkel was selected over a number of other much-more-high-profile newsmakers — including, Iranian president Hassan Rouhani, "Black Lives Matter" activists, ISIS leader Abu Bakr al-Baghdadi, and, yes, Republican presidential candidate Donald Trump. TIME Managing Editor Nancy Gibbs announced Merkel as the magazine's top choice during a segment on the Today show Wednesday morning, explaining that,
"[she] has stepped up in a way that was uncharacteristic even for her. She's been a very long-serving leader, the longest-serving in the west...but this year she really was tested in how she would respond to some of the most difficult challenges that any leader is facing in the world."
Merkel was raised in East Germany during the time that the now-unified country was separated by the Berlin Wall. That political reality appears to have had a great impact on her approach as a politician. Earning a PhD in quantum chemistry before heading into politics, Merkel's style has traditionally been thought of as steadfast, logical, and calculated. Under her leadership, Germany's economy thrived, but facing a possible economic collapse throughout the European Union as a result of a debt crisis in Greece, Merkel drew on her own experience living through the economic collapse in East Germany after the Berlin Wall fell. She devised a strict bail-out plan for Greece, which, while controversial, was expected to save the economic health of the entire Union.
But what is perhaps even more remarkable was the way she stood her ground in the wake of this year's Syrian refugee crisis, essentially adopting an open-door policy to migrants back in August. Merkel's swift decision — which flew in the face of widely-held suspicion and fear about Middle Eastern refugees — was largely criticized, but Merkel held her ground, insisting that Germany must offer acceptance and tolerance, viewing refugees as victims, not threats.
Even with increasing xenophobia and anti-Muslim backlash following the terrorists attacks in Paris in November, Merkel did not back down, with the country slated to accept one million refugees by the year's end. Hitting back at critics, Merkel said, "If we now have to start apologizing for showing a friendly face in response to emergency situations, then that's not my country."
As Germany's longest-serving Chancellor, it's no surprise that she has courted her share of controversy, though throughout her 10 year term there hasn't quite been a year so significant as this one. Merkel may not have made as many headlines or had as many viral soundbites and tweets as the others she was up against for TIME's title, but there's no questioning that her influence has made waves throughout Europe and the rest of the world, setting an almost radical example of what moral leadership in the wake of terrorism can look like.
Images: Sean Gallup/Getty