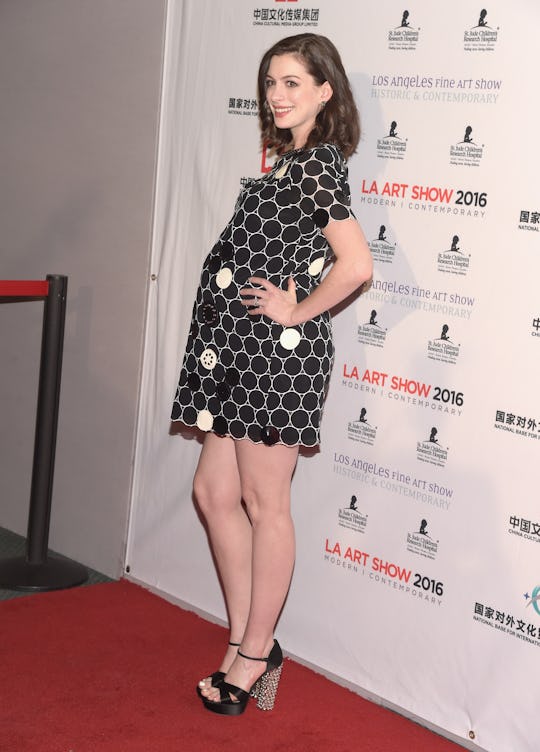 Jason Kempin/Getty Images Entertainment/Getty Images
What Did Anne Hathaway Name Her Son? The 'Les Mis' Star Just Had A Dream Come True
Since revealing she was pregnant in November, actress Anne Hathaway has given fans a few glimpses of signs of her growing family. And on March 24, the 33-year-old Les Misérables star and her husband, Adam Shulman, welcomed their first child, a baby boy, in Los Angeles. So, what did Anne Hathaway name her son? According to E! News, Hathaway's rep confirmed that the baby is named Jonathan Rosebanks Shulman.
Even though he's just a couple weeks old, we know that little Jonathan is one lucky baby. In 2013, Hathaway told Vogue that she could not wait to be a mother.
"Oh, my God. I want to be a mother, and I anticipate loving my children quite fiercely," she said in the November 12 interview. "I think about it all the time, though it's a silly thing to think about because the kind of mother I'll be depends on the kind of children I have. I can't wait to meet them."
The actress was careful to release photos of her baby bump on her own terms once she did get pregnant, choosing to hide all signs of the little one and post pictures on her own, personal social media accounts. That's how her fans ended up with these gems:
And this adorable beach-shot, which Hathaway noted was a little out of her comfort zone, and definitely different that the majority of her usual social media snaps:
Hathaway was quick to explain the bikini photo (not that she needed to), captioning the Instagram post,
So, posting a bikini pic is a little out of character for me. But just now while I was at the beach I noticed I was being photographed. I figure if this kind of photo is going to be out in the world it should at least be an image that makes me happy (and be one that was taken with my consent. And with a filter :)
Hathaway has already proven that she's going to be a protective, loving mother — one that any little prince (bad Princess Diaries joke, sorry) would be lucky to have.
Hathaway and Shulman got married in September 2012 in Big Sur, California, after dating for three years, and it's so exciting to watch the Oscar winner's dreams coming true in real time. She couldn't wait to meet her children in 2013, and now she's getting to know the first one. Fans everywhere are certainly looking forward to watching Jonathan grow up.
Congratulations, Anne and Adam!