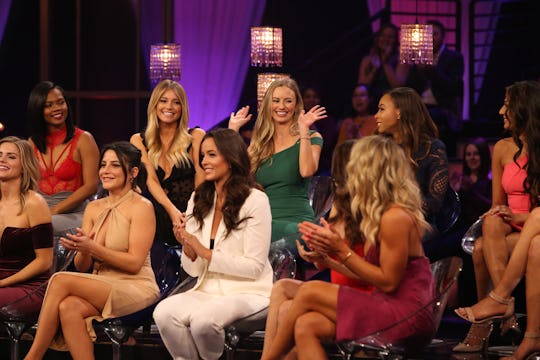 Paul Hebert/ABC
A Former 'Bachelor' Contestant Has Major Beef With Arie On The 'Women Tell All' Special
Bachelor Nation doesn't have to despair that The Bachelor is over soon, because they have fun specials like Women Tell All to look forward to, and even based on the promos alone, it looks like this one could prove to be the most dramatic yet. I say this because one of Arie's former contestants, Caroline Lunny, is shown calling Arie out and saying she knows what he did. So what did Arie do on The Bachelor to make her say that? It does NOT give Arie a great look.
I'm going to be honest, now... I don't really remember Caroline. From the promo of Women Tell All, though, she definitely plays a big role in breaking down this season's drama. According to her ABC biography, Caroline is a 26-year-old realtor. She was eliminated on the fourth episode this season after a confrontation with Krystal. The two of them, along with most of the remaining contestants, were on a hiking group date and won more time with Arie. Krystal, ever this season's "villain," hogged Arie most of the time. This made Tia and Caroline, who were also on the winning team, pretty upset. In the end, Arie canceled that night's cocktail party because he made up his mind... he kept Tia and Krystal (at the time) but said goodbye to Caroline.
So, yeah, that was the end of Caroline on The Bachelor. But on the Women Tell All she is back and ready to fight. In a sneak peek, Caroline calls Arie out: "I know what you did and I don't know how you could do that, and I just really don't understand... but I really hope you found what you're looking for." Boom. She didn't stop there either; Caroline admitted that she's been envisioning how this interaction with Arie would go.
"I had envisioned this Tell All for a long time and how it would go down and then obviously life happened and sh*t happened," Caroline said in an interview with E! News, "And so for me, I was really close with a lot of the girls in the house, especially a few that remained at the end." Caroline continued, "For me, it was a no-brainer, I needed to have that best friend moment, where you're like, 'Hey, I know what you did, screw you.' We all wish we could have that moment for our friends and for ourselves. I never got close enough to him to have it be about me."
According to Us Weekly, this all has to do with a mixtape. Apparently, Caroline gave Arie a mixtape that she made and... Arie plays it for Becca in the fantasy suite! That's a low blow, and I understand why Caroline is so upset. "I found out he later used it in the fantasy suite," she said to Us Weekly. "I'm friends with Becca and she told me! She was like, 'Oh my God we listened to your thing,'" Caroline explained. "It's fine because he knew that we were really close, but I was kind of, like, 'That's a little off-sides buddy, playing my f*cking mixtape.'"
As someone who's made a mixtape, it's a very personal thing, so Caroline made that for Arie's ears and his alone. Especially because not only did Arie play it for someone else, but he played it for Caroline's friend. Or maybe she's referencing something else entirely. Right now, it remains unclear.
I don't know what exactly happens when Caroline confronts Arie about "what he did," but I hope she finds the closure she's looking for. At the end of the day, I'm sure that Bachelor Nation will be on her side with this one... and even though she didn't get far in the competition, it may be a good bid for her to be the next Bachelorette with this betrayal story. #TeamCaroline, personally.
Check out Romper's new video series, Romper's Doula Diaries:
Watch full episodes of Romper's Doula Diaries on Facebook Watch.