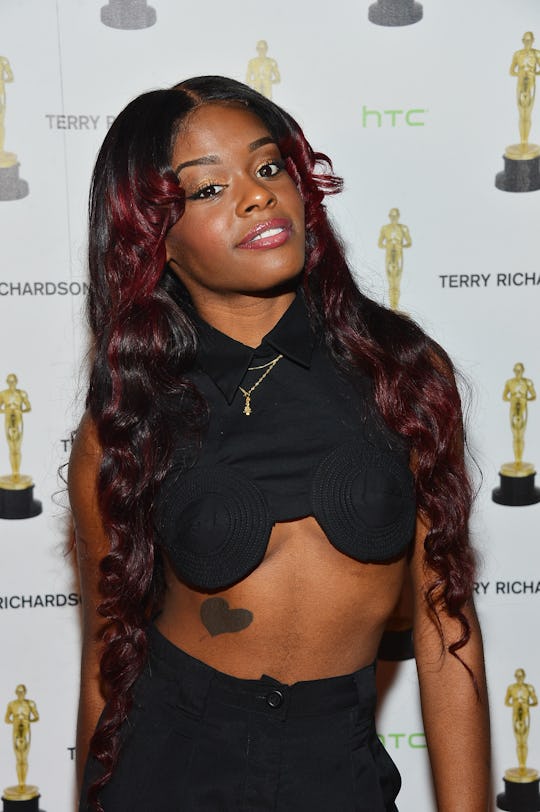 Frazer Harrison/Getty Images Entertainment/Getty Images
What Did Azaelia Banks Say To Get Banned From Twitter? Zayn Malik's Fans Weren't Happy
She's known for her controversial tweets. This week, Twitter suspended her account. What did Azealia Banks say to get banned from Twitter? Singer Zayn Malik and actor Skai Jackson were the focus of her comments, CNN reported.
On Tuesday, Banks posted on Instagram to highlight similarities between one of her own music videos and Malik's video for "Like I Would," according to The Atlantic. She captioned the collage, "D*mn Zayn be mood boarding the f*ck of out me .. I'm not mad about this though. Zayn is a cutie pie." That same day, Malik tweeted, "No lies ... I see you reaching but I don't care ️" and, two minutes later, "My @'s too good for you." Banks seemed to interpret both as being directed at her. She proceeded to call Malik everything from a "wannabe beiber" to "curry scented b*tch." The tweets included both racist and homophobic statements. Disney actor Skai Jackson attempted to stand up for Malik by tweeting, "Azealia Banks needs to simmer down a little," CNN reported. Us Weekly preserved Banks' response to Jackson:
LOL, says the Disney Channel Reject. … You know they don't like girls your color. Enjoy while it lasts. ur mom's been pimping you out to disney since you were a lil girl. lets see what you end up like at 21. bye!
After receiving backlash for the tweets, Banks issued the following statement about why she wrote what she wrote about Malik, The Atlantic reported:
I said what I said to Zayn because I was angry. He felt as if he was too good to acknowledge me yet not too good to copy my creativity. I had to remind him that we're both in the same boat in this industry and people of color by reminding him that no matter what you may think of yourself, the world still sees you as "other," as they see me.
Banks also attempted to justify her response to 14-year-old Bunk'd star Jackson, according to Vulture:
Skai jacksons [sic] mom was on the internet tweeting for me/Which is why I went in/I knew it wasn't a 14 year old on there/I wanted to tell her mother that she's doing the most to try and force this young girl out into the world by letter [sic] her wear weaves and take "sexy" Insta pics and that her daughter was probably going to end up becoming a th*t/The time should be spent trying to hone in on your daughters [sic] artistic skills rather than try and force this over sexualized image of a little girl onto the public/She's a LITTLE GIRL. You must teach your kids to stay in children's places because people are crazy/Me and women are crazy/A man my [sic] feel sexually attracted to your daughter and a woman might slap the sh*t out of me/*yr daughter/Not that I would slap her. But I'm obviously one of the crazies/Furthermore. Skai Jackson hasn't even entered the real world yet, where real black women get vilified for being just that/Real and black and woman/And i felt that since she's a child she had no place in that argument
After Twitter suspended her account, Banks responded on Instagram Thursday:
REALIZE that I insulted Indians, Pakistani, black folk... And my Twitter didn't get suspended until I said "WHITENESS IS A MENTAL ILLNESS" you guys need to pay the fuck attention to what is Happening here
Jackson and Malik seem to have moved on. Malik didn't tweet anything as of Thursday afternoon, while Jackson seemed to be having a happy day:
It is unclear if and when Banks' Twitter account will be restored.