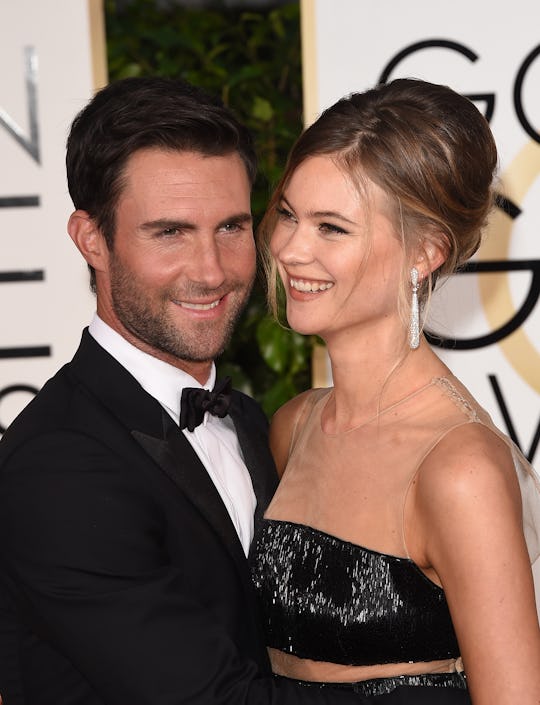 Jason Merritt/Getty Images Entertainment/Getty Images
What Did Behati Prinsloo & Adam Levine Name Their Baby? She's Got A Sweet Moniker
On Wednesday, E! News confirmed that Behati Prinsloo and Adam Levine had welcomed their first child. Prinsloo gave birth to a beautiful baby girl one day past her reported due date. Initial reports of Baby Levine's arrival didn't include her name, however, a rep for the Maroon 5 frontman shared with People that the new parents gave their daughter a uniquely sweet moniker. Prinsloo and Levine named their baby Dusty Rose, and it's a perfect choice for a kid with a model and a pop star for parents.
Prinsloo delivered Dusty Rose in the Los Angeles area surrounded by her husband and family, Us Weekly reported. A source told the magazine that "everything went well and the baby is very beautiful. They're a very happy couple and excited to start their family. I can tell you they make very beautiful babies together." I mean, duh. There was no way Levine and Prinsloo weren't going to have a supremely adorable baby. You just have to take one quick glance at the genetically blessed couple to know that.
Little Dusty Rose is only a day old and she's already one of the hottest topics on Twitter. Fans of Levine and Prinsloo have been sending their love and congratulations to the happy family on social media since the news broke that the new mom had given birth. For every loving fan, though, there's a snarky troll with an unwanted opinion on an infant's name.
Sure, dusty rose is also a shade of pink, but it totally works as a girl's name. It's pretty with just enough edge. It's kind of the perfect combination of her gorgeous Namibian model mom and cool pop-rock star dad. Dusty Rose Levine will most likely grow up to rock a leather jacket on the playground and teach the other kids at school how to work the hallway like a runway. She won't be sweating what any haters had to say about her unique name on Twitter.
Prinsloo and her husband also probably aren't too concerned with internet comments. Like most celebrities, the famous duo are seasoned pros when it comes to dealing with unwanted opinions. And after all, they just had a baby. They're most likely too busy appreciating that both mom and baby are happy and healthy after the birth.
It looks like Dusty Rose might be the first of many kids for Prinsloo and Levine. "The Voice" coach has been open about wanting to have a large family, even joking with E! News that 17 kids sounded good to him.
Congratulations to the happy family, and welcome to the world, Dusty Rose! I can't wait for your Instagram debut.