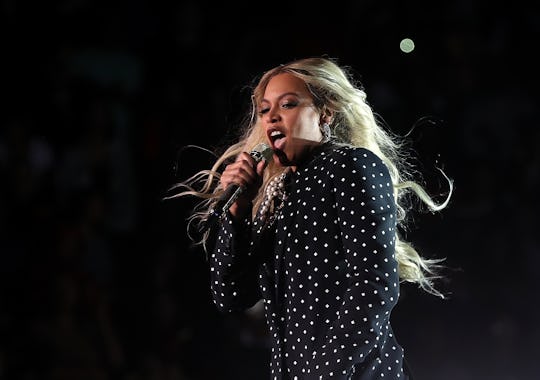 Justin Sullivan/Getty Images News/Getty Images
What Did Beyoncé Name Her Twins?
UPDATE: On Friday, TMZ reported that Beyonce and JAY-Z named their twins Rumi and Sir Carter. The names reportedly came to light when a company used to trademark the parents' own names filed to trademark Rumi Carter and Sir Carter.
EARLIER: In February, Beyoncé announced that she was pregnant with twins. Since that famous Instagram announcement, fans everywhere have been wondering two questions: what was Beyoncé having, and what would Beyoncé name her twins? On June 17 reports came out that Beyoncé reportedly welcomed her twins earlier that week, so now fans just have to be patient. (Romper reached out to Beyoncé's reps, but did not hear back at the time of publication.)
Us Weekly reported that, according to anonymous sources, Beyoncé and Jay Z had welcomed a baby boy and baby girl. The singer's reps did not immediately confirm the reports or release the twins' names. There is a lot to look forward to when it comes to the names of Queen Bey's twins. First of all, Beyoncé is not known for her subtly (one of the many reasons to love her). When Blue Ivy was born, people went quick down a rabbit hole to figure out what the name meant and why she was named that. Some even tried to link it to the Illuminati — though those theories were never confirmed, proven, and many didn't even make much sense. But, it still left people talking (and still talking!). So, multiply that by two babies and just imagine the uproar the twins' names will cause.
Of course, there's already a lot to celebrate as fans wait for the names of the twins, and that is the fact that Beyoncé had her twins during Gemini season, as Life & Style points out. According to Cafe Astrology, "Geminis are said to have a dual nature, as symbolized by twins." Yeah, that checks out that Beyoncé would make something so serendipitous happen. (Or maybe it's not serendipitous, maybe it's something more... Illuminating?)
The wait to find out the names is taking a certain toll on some Twitter users, as they impatiently wait for the big reveal.
Of course, for privacy sake, it is totally understandable why Beyoncé and Jay Z may want to keep the names of their twins close to the chest for now. And, if Beyoncé keeps to her epic mic-drop habits, it wouldn't be all that surprising if she ended up doing something very grand for the name reveals. HBO special, anyone?
More to come as information is released...