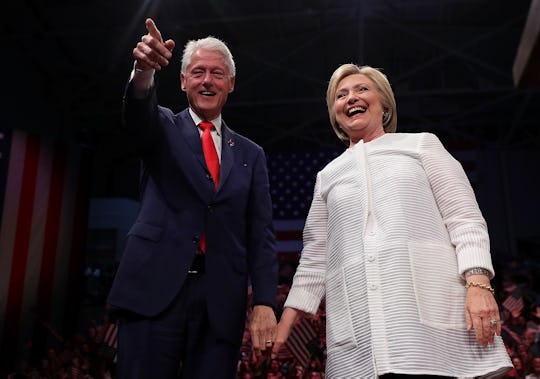 Justin Sullivan/Getty Images News/Getty Images
What Did Bill Clinton Say To Loretta Lynch? The Chance Encounter Is Drawing Suspicion
A chance encounter between former colleagues at a Phoenix airport has had the unintended result of making everyone involved look, well, pretty bad. Just as the Justice Department's investigation of former Secretary of State Hillary Clinton's use of an unauthorized private email server was coming to a close, her husband happened to run into the Attorney General when he stopped by her plane for a chat. So what did Bill Clinton say to Loretta Lynch in their "private meeting"? Was there wheeling and dealing going on? Did he try to steer her away from an indictment? According to Lynch, he chatted with her about the same two things all retirees want to discuss: grandchildren and golf.
According to CNN, Lynch said in a press conference last week that the two did meet, but did not discuss any ongoing investigations. Clinton happened to spot Lynch's plane on the tarmac at the airport, and boarded the plane to say hello. CNN reported that Lynch's FBI detail didn't stop Clinton from boarding, and Clinton's aide said that the former president frequently meets with other dignitaries when he happens to run into them, such as in May when he met with Texas Sen. Ted Cruz at an Alabama airport. Of course, hindsight's 20-20, and surely Clinton now realizes that there's a time and a place to be friendly, and this... well, this probably wasn't it.
"I did see President Clinton at the Phoenix airport as he was leaving and spoke to myself and my husband on the plane," Lynch told Phoenix's ABC15, which broke the story of the meeting last week. "Our conversation was a great deal about grandchildren, it was primarily social about our travels and he mentioned golf he played in Phoenix." She added, "There was no discussion on any matter pending before the Department or any matter pending with any other body, there was no discussion of Benghazi, no discussion of State Department emails." She also said that the two talked about the Brexit decision.
The Washington Post called the meeting "a striking error of judgment" for Clinton, and a "huge lapse" for Lynch, who was appointed as a U.S. Attorney by Clinton in 1999. Amateur mean tweeter Donald Trump has predictably had a field day with the news, calling the meeting "terrible" and "horrible" (no word on "no good" or "very bad"), and dumped the following word salad on talk show host Mike Gallagher: "You see a thing like this and, even in terms of judgment, how bad of judgment is it for him or for her to do this? Who would do this?" The Grandfather of the Year also followed up at the Western Conservative Summit in Denver: "I love my grandchildren so much, but if I talk about them for more than nine or 10 seconds... after that, what are you going to say?" Yikes. Let's hope those poor kids don't have internet privileges, and let's hope Clinton learned his lesson.