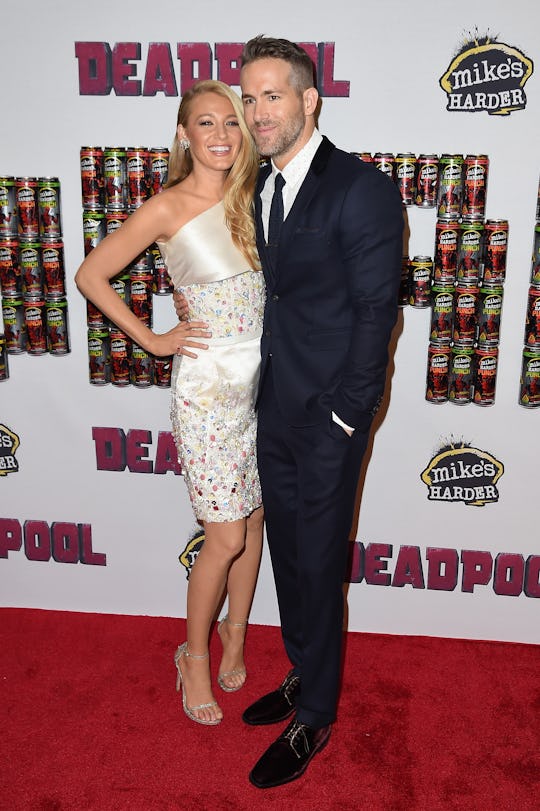 Nicholas Hunt/Getty Images Entertainment/Getty Images
What Did Blake Lively & Ryan Reynolds Name Their Second Child? Fans Are Too Excited
Blake Lively and Ryan Reynolds have reportedly welcomed their second child into the world, according to Page Six, and may have already had his or her first famous visitor, after Taylor Swift was rumored to be headed to a Manhattan hospital (to meet her newest and tiniest squad member? I think so). What did Blake Lively and Ryan Reynolds name their second child? The famously private couple has remained mum on the details for now, and Romper's request for comment from the super-couple's reps was not immediately returned. But the newest arrival now officially makes the Lively-Reynolds clan a family of four — and makes their first child, their almost 2-year-old daughter James, a big sister.
According to People, Lively gave birth at a hospital in New York, after first announcing her pregnancy to the magazine back in April. Both Lively and Reynolds have spoken about their desire to have a large family, with the actress joking in a June interview with TODAY that they both had lots of siblings and "[are] officially breeders." And honestly? That's kind of great news, because Lively and Reynolds might just be the cutest and funniest celeb parents in existence. Reynolds in particular is known for sharing hilarious parenting tweets, giving his take on everything from his daughter's artwork to his penchant for making up unconventional nursery rhymes.
According to E! News, Lively celebrated the impending arrival of her second child earlier this summer at a baby shower at the Bedford Post Inn in Westchester County, New York. Not many details on the special day were released, but one confirmed guest? Taylor Swift (of course!), who will likely be the world coolest auntie (and she already has some practice, since she's been the godmother to Jaime King's son since he was born in 2015, according to Us Weekly).
Though Lively is still passionate about her career — her latest film, The Shallows, came out earlier this summer — she's pretty clear about motherhood being her number one priority. In June, the actress told Marie Claire, "All my eggs are in one basket, and that's my family. That's where my heart is. That's where my everything is."
There's no word yet on whether or when Lively and Reynolds will release further information about their newest little one, but from the sounds of it, it's not a stretch to assume they're currently over the moon with their growing family.
This story is developing...