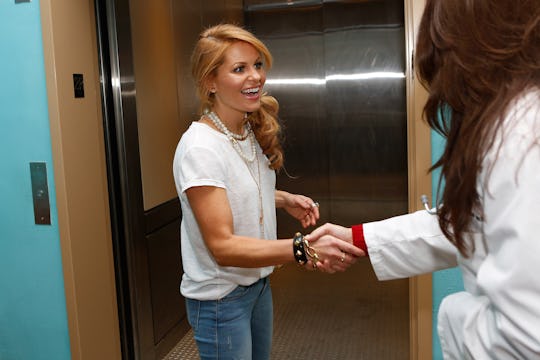 Thos Robinson/Getty Images for Banfield Pet Hospital
What Did Candice Cameron Do After 'Full House'? She's Been One Busy Lady
Candace Cameron is all grown up and ready to reprise her role on the Netflix Full House reboot, Fuller House, as the lovable big sister D.J. Tanner. While we're excited to see her back in the Tanner house, 39-year-old Cameron, now Candace Cameron-Bure, has kept pretty busy over the last few years raising a family as a mother of three, and keeping her career going. So if you're wondering, what did Candace Cameron do after Full House, the answer is quite a lot, actually.
In addition to staying in the acting biz with roles in made-for-TV movies for the Hallmark Channel and a run on the ABC Family Network's Make it or Break It, she's re-invented herself as a motivational speaker and self-described "role model" with a heavy emphasis on her Christianity — which shouldn't be much of a surprise considering that her brother, '80s TV hearthrob Kirk Cameron, has become totally immersed in Faith-based projects himself, making the occasional headline for his views of religion and morality.
In fact, Cameron-Bure made headlines just recently, after chastising Madeline Albright on The View for her "There's a special place in hell" comments. Spoiler: she's pretty literal about this whole religion business, Jezebel reported.
"First of all, anyone who can even joke, if it was a joke, about hell?" Cameron-Bure reportedly told her co-hosts. "There's nothing to be that's funny about that. If anyone actually read their Bible and saw, the description of that, it's disgusting."
Engaging in religious battles isn't the only thing Cameron-Bure has been up to though. The Fuller House star married former NHL player Val Bure in 1996 and in addition to raising their three kids, Natasha, Lev and Maks, she's been busy writing a couple of books. The first, Reshaping it All: Motivation for Physical and Spiritual Fitness, "inspires women to embrace a healthier lifesyle by moving faith to the forefront of their relationship with food", according to the book's description. Not sure if that involves praying that you won't eat that chocolate cake or not, but it was a hit, putting Cameron-Bure on The New York Times best seller list.
She also wrote a book she says is about "juggling priorities and purpose" called Balancing it All and is in the process of working on a book about the lessons she learned during her turn on Dancing With the Stars.
On top of her career writing inspirational/religious books, Cameron-Bure's family has a boutique wine label, Bure Family Wines, which seems like an odd combination, but a whole lot of fun nonetheless.
It's going to be nice to see Cameron-Bure back in action as D.J. Tanner. No word on whether she's been able to save Bob Saget yet. But I'm sure she's working on it.