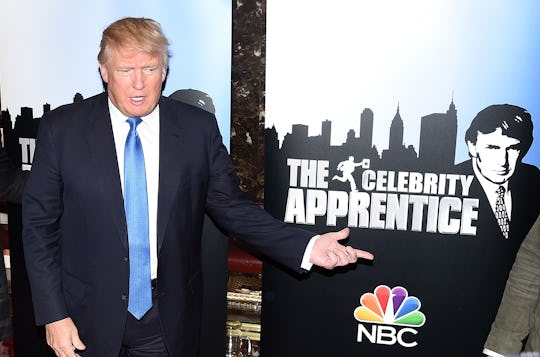 Andrew H. Walker/Getty Images Entertainment/Getty Images
What Did 'Celebrity Apprentice' Lose To At The Emmys?
Reality TV made its way into the national debate discourse Wednesday night when Democratic candidate Hillary Clinton mentioned GOP candidate Donald Trump's show, Celebrity Apprentice. A weird mention, for sure, but Clinton framed it in the context of Trump's "sore loser" mindset. During the debate, Clinton said, "there was even a time when he didn't get an Emmy for his TV show three years in a row, he started tweeting that the Emmys were rigged." So, what did Celebrity Apprentice lose to at the Emmys?
In 2009, Celebrity Apprentice lost to ABC's Extreme Makeover: Home Edition. But it wasn't just Celebrity Apprentice that felt that felt the scorn of the Television Academy. It turns out Tump's other show, The Apprentice, also lost big at the Emmys two years in a row to The Amazing Race — ironically synonymous with this election season, too. Trump wasn't exactly thrilled about the losses at the time, and even as recently as 2014, was still a bit jaded about the whole affair after nearly a decade since The Apprentice's first loss in 2004 to The Amazing Race. And, like so many other tirades, vented his outrage and bitterness on his very vocal and unfiltered Twitter account.
Now, here's where it gets even more comedically awkward: Trump is actually a voting member of the Television Academy — and he has no qualms saying that the very organization of which he's a voting member is rigged against him. The whole reason that Clinton even brought up Trump's failed Emmy bids at all was to expand on a history of "rigged against me" reactions from Trump any time something hasn't gone his way. At Wednesday's debate, moderator and FOX News host Chris Wallace asked Trump point blank if he would accept the results of the election — to which Trump responded he would "look at it at the time." Um, what?
Clinton rightly called her opponent's response "horrifying," and went on to describe Trump's history of behavior when something doesn't go in his favor — the Emmys included. "Every time Donald thinks things are not going in his direction," Clinton said, "He claims that whatever it is, it's rigged against him." She then rattled off that list Trump's "sore loser" moments like a boss — so let's break them all down.
The FBI Is Rigged!
Clinton didn't hesitate to bring up the FBI investigation into her personal email server use during her time as Secretary of State. In July, when the FBI chose not to move forward with criminal charges against Clinton, Trump said, "We have a rigged system, folks," to a crowd of supporters in North Carolina. Yup, Trump said the entire Federal Bureau of Investigation was rigged.
The Republican Primary Was Rigged!
After Trump lost the Iowa caucus and the Wisconsin primary, he claimed the Republican primary was rigged, according to Slate. On the contrary, Donald. Out of the clown car of Republican primary candidates, it was the reality television host that walked away with the nomination. I'd hardly call that rigged.
That Court Case Was Rigged!
Besides the Emmy burn, Clinton brought up the Trump University fraud and racketeering case and how Trump claimed that the federal judge on the case couldn't be impartial because of her Mexican heritage. You know, because Trump loves Mexicans.
As Clinton noted, Trump's sore loser behavior — whether it's the election or the Emmys — is a mindset for him, one that certainly doesn't behoove anyone, let alone a potential president.