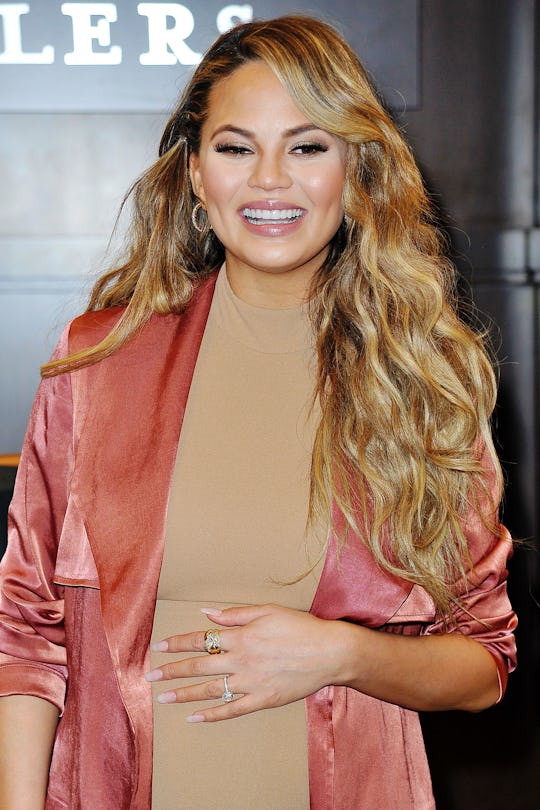 Jerod Harris/Getty Images Entertainment/Getty Images
What Did Chrissy Teigen Name Her Baby? Her Daughter's Name Is Adorable
Congratulations are in order for Chrissy Teigen and John Legend, who finally welcomed their first child, a baby girl! The model/cookbook guru posted a photo on her Instagram Sunday to announce the baby's Thursday birth. The caption reveals what Teigen named her baby, and it's perfectly adorable. "She's here!" Teigen wrote. "Luna Simone Stephens, we are so in love with you! And sleepy. Very sleepy."
Teigen met Legend, who wrote the swoon-worthy hit single "All Of Me" about her, on the set of his 2007 music video, "Stereo." The couple married in 2013. Since then, Teigen, who is beloved for her candidness on social media and elsewhere, has opened up about their struggles to conceive and their eventual decision to use IVF. As she recently told Self, "The big question was why this wasn't working for us when I was young and he was healthy. I thought, People get pregnant by accident all the time! How does this happen?" The world responded to her candor with an outpouring of support, with Teigen continuing, "Once we talked about IVF, it was like I heard everything. Some people who are close to us had done it, like, seven to ten times." With all the struggling it took to get to Luna's birth, no wonder the couple is so overjoyed!
It's been a good time for Teigen fans lately. The model, once known best for appearing on the cover of the Sports Illustrated swimsuit edition, now co-hosts the hilarious series Lip Sync Battle with LL Cool J, and has some of the most popular social media accounts out there, thanks to Tweets like the following:
And since her modeling, social media-ing up a storm, and TV hosting weren't giving the world enough Teigen, she also recently published a cookbook, Cravings, that flew off the shelves and taught us how to make all the yummy carbs we could ever want. Now, to top it all off, she's given the world a tiny little Teigen, who's sure to be as awesome as her super-cool parents.
And Teigen and Legend aren't planning on stopping there. As Teigen told Self, she'd ideally love to have four kids, plus a dog:
I think I'll probably be pregnant all through my 30s. I've always pictured everyone around the table for the holidays and together once a week. It'll be heartbreaking if it doesn't end up happening, but hopefully it will. We've got some embryos on hold.
Congratulations again to Teigen and Legend, and welcome to the world, Luna Simone!