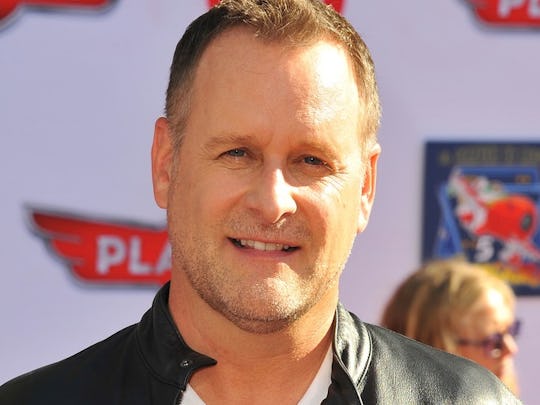 Angela Weiss/Getty Images Entertainment/Getty Images
What Did Dave Coulier Do After 'Full House'? Uncle Joey Decided To Return To His Roots
Fans are counting down the days until the Netflix release of Fuller House, the reboot of the cheesy '90s feel-good sitcom Full House. While the show will primarily center around the now-grown D.J. Tanner-Fuller (Candace Cameron-Bure), Stephanie Tanner (Jodie Sweetin), and Kimmy Gibbler (Andrea Barber), the entire cast of the original series will be returning for at least one episode in Season 1 (with the notable exception of Mary-Kate and Ashley Olsen, who played Michelle Tanner). While Bob Saget and John Stamos haven't shied from the spotlight since Full House went off the air in 1995, we've seen very little of Uncle Joey in recent years. So what did Dave Coulier do after Full House? He's kept busy, but none of his projects have been as huge as the TGIF hit.
After Full House ended, Coulier returned to his roots, performing stand-up comedy and doing voice work for various cartoons (you may remember him as the replacement Venkman on The Real Ghostbusters and the replacement Animal on Muppet Babies before he became Uncle Joey). He also appeared in four episodes of the short-lived sitcom George & Leo, which starred Bob Newhart and Judd Hirch (no, I'd never heard of it before, either).
In 2002, Coulier released a pair of "musical storybooks" starring a character called Weaver Beaver. An accompanying website (now defunct) featured videos, games, and downloadable coloring pages. According to a press release, the CDs were "sold exclusively at Walgreens, Eckerd Drugs and online at Amazon.com." You can still get them on Amazon today, now on sale for a penny. He also appeared in this pretty hilarious Funny or Die video (below) that pokes fun at his where-are-they-now status. Not safe for work or kids, if you couldn't tell by the title.
Coulier's most notable TV appearances have been reality series. He appeared on Season 3 of The Surreal Life in 2004, but was overshadowed by the odd romantic pairing of his roommate, Flavor Flav, and Brigitte Nielsen. And in 2006, he competed on the Fox show Skating With Celebrities, but was again overshadowed by a romance between cast members; People reported on the marriage-ending relationship between skating champion Lloyd Eisler and actress Kristy Swanson that began during the show.
Coulier has had a fair amount of cameos on other shows, including those of his fellow Full House coparents: He played himself on a 2013 episode of Saget's How I Met Your Mother, parodying the long-standing rumor that Alanis Morrisette's "You Oughtta Know" is about him, and just recently appeared on Stamos' Grandfathered.
According to his website, he's currently on a stand-up tour, and it looks like he's doing pretty well — he has five dates booked in Winnipeg the same weekend that Fuller House premieres, and they're all sold out. Still, this this reboot could be the best thing for his career since the original series back in the '90s... and hey, it also means more Uncle Joey for us.