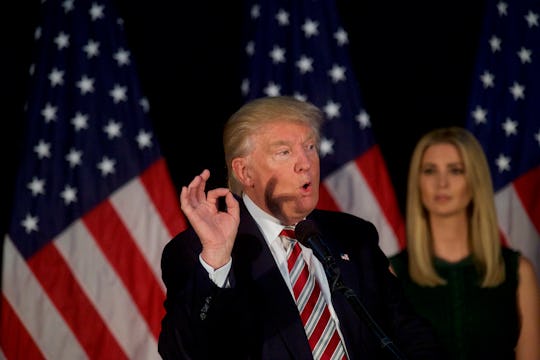 Mark Makela/Getty Images News/Getty Images
What Did Donald Trump's Medical Record Say? We Might Not Actually Find Out
Following Democratic presidential candidate Hillary Clinton's announcement that she has been diagnosed with pneumonia, Republican presidential candidate Donald Trump announced Monday that he would be taping an episode of The Dr. Oz Show Wednesday, where he would be publicly releasing details from a recent physical examination. What did Donald Trump's medical record say? According to The New York Daily News, Trump spoke to Fox & Friends about the upcoming segment, set to air Thursday, and said he'd be sharing "very, very specific numbers" from his medical report, but that, "ultimately, they're gonna be good."
The Dr. Oz Show host, Mehmet Oz, also spoke about the upcoming interview with Trump in a Fox & Friends interview Tuesday, according to CNN, where he said that, while he didn't actually do the physical exam himself, he would be analyzing the results and revealing them during the show — within reason, however. Oz said,
If he puts limitations, I'll acknowledge them. It's his decision. Look — the metaphor for me is, it's a doctor's office. The studio. So I'm not going to ask him a question he doesn't want to have answered.
That sounds fair enough (if an odd idea to even begin with), but Wednesday morning NBC News national correspondent Peter Alexander tweeted a statement from Trump's campaign aides suggesting that perhaps Trump's medical records were never actually going to become public knowledge at all. Or, at the very least, that they wouldn't become public knowledge on Thursday:
Both [the Dr. Oz Show appearance] and the release of medical records have been planned for a while and are separate. The info will be released "shortly" but is not the focus of the Dr. Oz appearance. That focus is health in general, family, and more a conversation generally about well-being — not an opportunity to review lab results and get into the weeds on Mr. Trump's medical history. Energy and being active are some of the topics that could come up.
That's disappointing news for anyone who was really looking forward to see Trump talk openly about his physical health on Thursday's episode, but at the same time, even if he was intending on sharing his health record on a talk show, he almost certainly was never going to have any surprising or salacious medical revelations revealed on TV (say what you will about Trump, but that doesn't seem like something anyone should have to do). What seems far more likely is that Trump will be using his Dr. Oz appearance to emphasize his general self-described fantastic health to further contrast himself from Clinton's current ailment, in standard political campaign fashion.
That's not to say though, that Trump's medical records are technically a complete mystery. Although it's not a whole lot to go on, Trump released a one-page letter from his doctor, Dr. Harold N. Bornstein, in December that shared some very specific details about his health history, according to The Washington Post. For example, we know that Trump has "astonishingly excellent" blood pressure and lab results, and that he has been a patient of the same doctor for 39 years, with "no significant medial problems" to report during that time. The letter also states that he lost 15 pounds in 2015, takes 81 mg of Aspirin and a low-dose statin each day, has never had cancer or orthopedic surgery, has "excellent" cardiovascular health, has never used alcohol or tobacco, has "extraordinary" physical strength and stamina, doesn't have an appendix, and, according to his doctor, would "unequivocally" be the "healthiest individual ever elected to the presidency." (Uh, can I get this guy to write me an endorsement on LinkedIn?)
Interestingly, once the letter was published, Bornstein did admit to NBC News that it perhaps wasn't his most sincere work. According to The Washington Post, Bornstein said he only had about five minutes to write it, and was feeling "anxious" and "rushed." He also told NBC News, that he wouldn't normally write a letter using such hyperbolic language, but said, "I think I probably picked up [Trump's] kind of language and then just interpreted it to my own."
What does all this mean? Pretty much that the country is still no closer to knowing much about Trump's medical history or current health status than we already do. And given that, at 70 years old, Trump would be the oldest person ever to be elected president if he wins in November (though, at 68, Clinton isn't too far behind), well, that concerns a lot of people.
That's not to say, of course, that Trump definitely won't disclose his health status prior to the election, but it does seem pretty clear that, if he does, it won't be on The Dr. Oz Show.