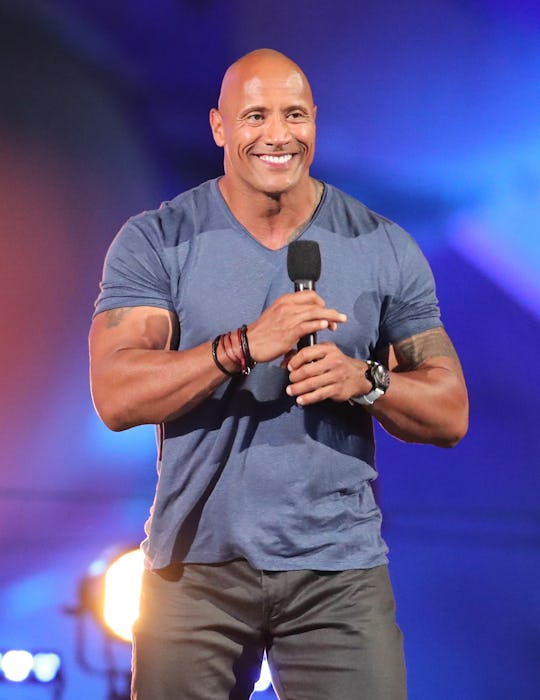 Christopher Polk/Getty Images Entertainment/Getty Images
Dwayne Johnson's PCA Speech Got Partially Bleeped
The People's Choice Awards is one of the more lax award shows, which is why it's not surprising that something interesting always happens. This year it was Dwayne "The Rock" Johnson that set the stage for a fun night when he left fans wondering what did Dwayne Johnson say during his People's Choice Awards speech? Johnson was nominated for two categories at the PCAs this year, the first of which was Favorite Comedic Movie Actor, which he lost to his good friend and Central Intelligence costar Kevin Hart. When Hart took to the stage to accept his award, he also used the opportunity to throw shade at Johnson, but it was obviously all in good fun.
Soon after, Johnson got his own award for Favorite Premium Series Actor for his role in Ballers. This was his second consecutive win in the category for the same role. After he thanked everyone on the show and his family, giving a special and very sweet shoutout to his daughters, he then said something that the PCAs decided to bleep out. Based on the way the camera panned to Hart, it seems whatever Johnson said was in retaliation for his friend's jokes earlier. After the bleeping, Johnson said Hart had told him he could say whatever it was, but what exactly did he say? More importantly, why did it get bleeped?
Unfortunately it seems viewers will have to wait for either Johnson to come clean or someone else in the audience to fill us in on what was bleeped out. For now though fans are just impressed with everything else Johnson said in his speech. Most importantly, he reminded us of the necessity of kindness, especially these days. "It's nice to be important, but it's more important to be nice," Johnson said.
Although it's not a Meryl Streep-level speech, it was also very nice to hear. Johnson's career is hotter than it's every been and it's nice to see that he remains humble and just seems like a genuine good guy. Congrats to him on his award and I wish him all the best. Also, please just tell us what you said. I need to know!