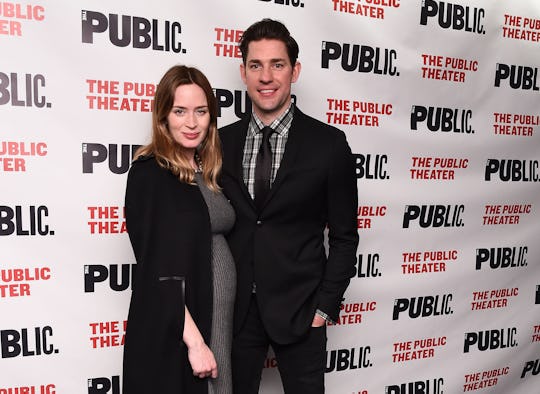 Ilya S. Savenok/Getty Images Entertainment/Getty Images
What Did Emily Blunt & John Krasinski Name Their Second Child? It's Super Classy
Actors and amazing humans Emily Blunt and John Krasinski revealed Monday that they welcomed their second baby, a daughter, two weeks ago. Krasinski used the Fourth of July celebrations to make the announcement, tweeting, "What better way to celebrate the 4th... than to announce our 4th family member!!!" He also revealed their youngest's name, and it's a classy, traditional choice. Blunt and Krasinski named their daughter Violet, and personally, I can't think of anything cuter (but hey, I'm biased — I love the name).
The Office star and Sicario actress were already parents to one daughter, Hazel, who was born in February 2014. In April, Blunt told E! News that Hazel was slowly warming up to the idea of having a younger sister, but that she didn't necessarily start off that way. "She sort of dismissed the idea initially and she just responded with, 'Nope.' 'Nope,' flat out!" Blunt said. "We've bought her every single 'I'm a big sister' book that's out there and she's a bookworm, so she's coming around."
As for Blunt's pregnancy with Violet? Blunt said it was much easier than her first time around. "I think we are more laid-back this time," she told Today. "We know what to expect. It is the great unknown with the first child."
As for Krasinski, he told People that marrying Blunt and having children was a game-changer for him. "I think when you commit your life to anything like that it changes everything. All of the cliches are true," he said. He continued:
I remember Steve Carell said to me, 'If your old life was your favorite book, then after you have a kid you are picking up a totally different book that is now your new favorite book.'
On the mothering side, Blunt told The Edit that she was trying to let Hazel grow into herself without worrying too much. "[Raising children] is such a fear-based industry," she said. "There used to be one book that everyone read, now there's How to Raise a Gluten-free Baby, How to Raise a Scientific Baby... It's insanity! So I haven't read anything, I'm just letting her do her own thing."
It sounds like Hazel and Violet (oh man, how cute are those names?) have two laid-back, loving parents raising them. With any luck, all of those big sister books worked on Hazel, and the family of four is now enjoying their Fourth of July.