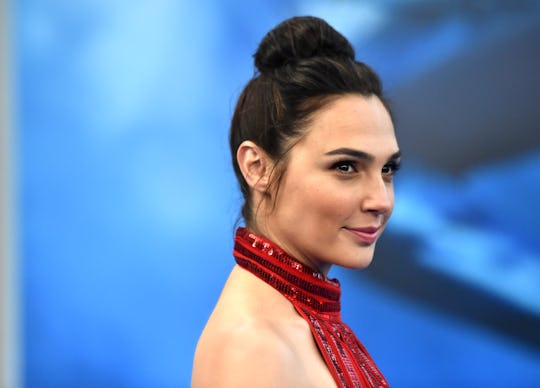 Frazer Harrison/Getty Images Entertainment/Getty Images
What Did Gal Gadot Do In The Israeli Army?
It's not secret that Wonder Woman star Gal Gadot is having a major moment in Hollywood right now: in addition to earning rave reviews for her starring role in the female-led superhero film, the movie earned an impressive $103 million at the domestic box office over the weekend, according to The Hollywood Reporter, set a record for having the biggest opening ever for a female-directed film, and did it all with an audience that was predominantly female. In other words, Gadot and director Patty Jenkins have shattered the myth that female superhero films just aren't profitable, so it's not really surprising that the public can't get enough of the Israel-born actress. It turns out she's not just a badass onscreen though. What did Gal Gadot do in the Israeli army? According to The Daily Mail, Gadot served in the Israeli Defense Forces for two years.
These days, Gadot is a 32-year-old married mom-of-two, but when she was 20, the Israel native enrolled in the army. Military service is mandatory in Israel for all men and women over the age of 18, and it can be intense: according to Vanity Fair, Gadot served during the 2006 Israel-Hezbollah War, a 34-day conflict in Lebanon and northern Israel.
Gadot hasn't spoken in-depth about that time in her life, but in an appearance on Live with Kelly and Ryan last month, she revealed that the grueling physical training she underwent prior to filming wasn't nearly as demanding as what she experienced as an army officer.
According to People, Gadot explained that it took about six months to prepare for the role — and that her routine was pretty hardcore:
I was training for six months prior to the shoot. And six hours a day. I did two hours of gym work, two hours of fight choreography, and two hours of horseback riding. Which is super hard. When people used to tell me, 'Yeah I do sports I ride horses,' I was like, 'That's not sport. The horse does everything.' No! No! You'd be surprised — it's so painful.
That sounds unbelievably exhausting, but Gadot said that being in the military was "a lot more intense" than training for the film. Overall, however, it sounds as though Gadot didn't actually consider the army to be too much of a challenge: in July 2015, the actress told FASHION, "The army wasn't that difficult for me. The military gave me good training for Hollywood."
In addition to Gadot's acting career and her military service, she also has a background in beauty pageants: according to The Independent, Gadot was crowned Miss Israel in 2004, and later participated in the Miss Universe pageant before she joined the IDF. She then enrolled in law school (seriously, is there anything she can't actually do?), before leaving to pursue acting full-time.
In 2007, Gadot was featured in a Maxim article about women in the IDF, and told the magazine that she taught "gymnastics and calisthenics," to her fellow soldiers, adding, "[they] loved me because I made them fit."
But her military background has also caused some backlash. According to Slate, Wonder Woman has been banned in Lebanon, due to pressure from the Campaign to Boycott Supporters of Israel–Lebanon, which has referred to it online as "the [Israeli] Soldier film." And in 2014, Gadot made headlines for a social media post in which she could be seen praying with her daughter, Alma. In the caption, Gadot offered her support to the people of Israel and the IDF, according to The Independent, and condemned what she described as the "horrific acts conducted by Hamas, who are hiding like cowards behind women and children." Response to the post was mixed, with many praising Gadot's stance, and others criticizing her pro-Israel position.
Controversy aside, it's pretty clear that Gadot was a great fit for Wonder Woman — not only is she physically strong, but she's been praised by the film's director for work ethic and fearlessness. In fact, according to Entertainment Weekly, Gadot was actually five months pregnant during re-shoots for the film, yet Jenkins said it didn't slow her down at all:
She's pregnant during part of the movie, in a suit out in a field in the freezing cold in others. There are so many things we asked her to do: Now do it on one foot. Now shout while you're doing it. Now it's raining in the freezing cold and you've lost your voice, go. Everyday it was a hilarious gauntlet and she would do it.
Taking on the role of Wonder Woman may have been intense, but the success of the film has marked a huge win, as it has proven that, actually, people will come out to see a female superhero film (and even more significantly, many of those people will be women).
For those of us with young daughters though, it also means that they will have the chance to grow up with a majorly impressive role model on the big screen, and that they'll be able to learn that it's not just men who can save the world.