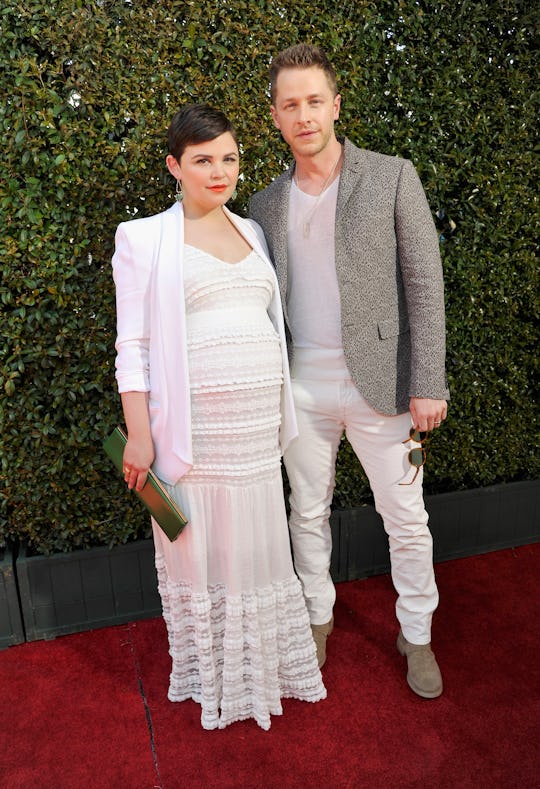 John Sciulli/Getty Images Entertainment/Getty Images
What Did Ginnifer Goodwin Name Her Baby? It's A Mouthful
Big news in the Goodwin-Dallas household! Once Upon A Time's Ginnifer Goodwin gave birth to her second child on June 1 in Los Angeles, California, E! News reported on Wednesday. It already sounds like the little one is bound to have a lot of personality too: According to the outlet, Goodwin named her new baby Hugo Wilson Dallas.
This is Goodwin's second child with her husband and co-star, Josh Dallas. The couple has a another son, Oliver Finlay Dallas, who born a month after their wedding in 2014. And they are doing it right this time. She said on Jimmy Kimmel in February that with their first son, they were all about doing everything themselves. "The first time we thought we needed to be heroes and do everything ourselves,"she said, saying that hiring a nanny or help seemed "too L.A." for their life. "This time we're going at it Downton Abbey-style—staffing up—like a nanny and an under-nanny," she told the late night host. Live and learn, right?
But don't start judging them for "staffing up," with Oliver they went "real hippy dippy" and Josh actually delivered the baby himself (with doctor supervision, of course). These guys are hardcore.
The hardest thing about her second pregnancy, it seems, was picking out a name for him. She said they used up all their "favorite names" on the first kid. Also, her husband has a tough name to work with and the seemed to put a lot of work into finding the perfect moniker.
"My husband's last name is Dallas — my last name is Dallas — it's wonderful, it's strong," she told Kimmel. But you can't exactly play around with a name like "Dallas," either. "If you double-D it up, it sounds pornographic,"Goodwin said. Then again, she didn't really think that hard about it, because her eldest's initials will be O.D., as Kimmel points out. Great. What is about kids that makes even the simplest things complicated?
Though what's cuter than two little brothers named Oliver and Hugo? Adorbs.
Other than some random naming issues, this family is sort of too cute for words. Goodwin and Dallas met on the set of Once Upon A Time back in 2012. On the show they also play love interests so this whole thing actually does feel a little too fairy tale for my own liking. I mean, I can't tell if Prince Charming delivering my baby is a good or bad thing, but it's certainly interesting at the very least.
Between the obviously committed relationship and the double nannies, it's hard to tell what the best part is. Oh, yea. The kids. Of course, the kids. Welcome, Hugo!