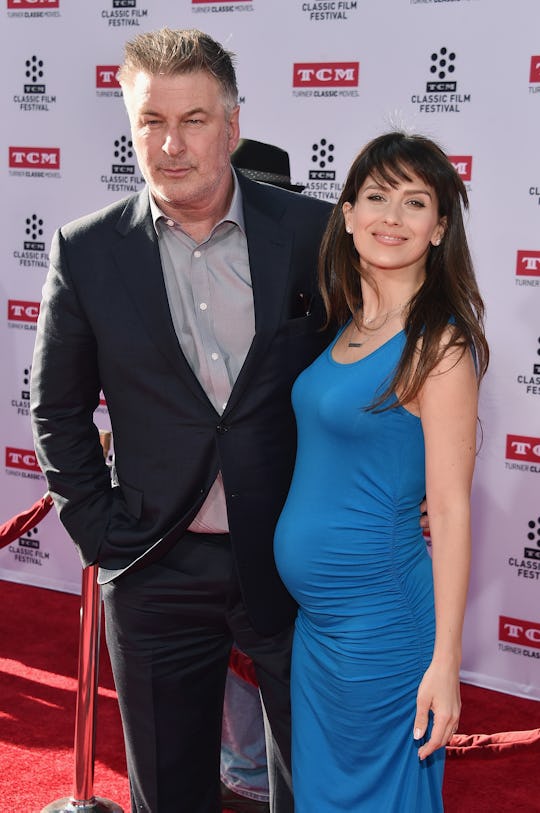 Alberto E. Rodriguez/Getty Images Entertainment/Getty Images
What Did Hilaria Baldwin Name Her Baby? She Welcomed Her Third Child On Monday
The Baldwin brood just got bigger. Yes, the Baldwin brothers are famous, but Alec Baldwin's own children just might give the older Baldwins a run for their money due to their ever growing family. This is because Alec's wife, Hilaria, just welcomed their third child on Monday. If you're wondering what did Hilaria Baldwin name her baby, know that it isn't some crazy celebrity baby name and fits right in to the family.
Unlike years past when it seemed like fans had to wait forever for celebrities to release the names and photos of their newborns, social media has made it so much easier to get this news faster. Hilaria Baldwin is a prime example of a celebrity that has used social media to her advantage — being the first person to announce the name of her newborn son and release the first photo — which I'm sure fans were grateful for. In the photo, that Hilaria posted to Instagram shortly after giving birth, both mother and son look absolutely radiant and glowing. But what is the baby's name? Alec and Hilaria's new son is named Leonardo Ángel Charles Baldwin. As Hilaria introduced him to the world through her Instagram caption: "We are so pleased to introduce to the world Leonardo Ángel Charles Baldwin. It was such a special day bringing him into this world."
Leonardo is a seriously perfect name. It comes with an adorable nickname (Leo) and brings up thoughts of very talented people like artist Leonardo DaVinci and actor Leonardo Dicaprio. According to People Leonardo joins older sister 3-year-old Carmen, 14-month-old Rafael, and 20-year-old half sister Ireland.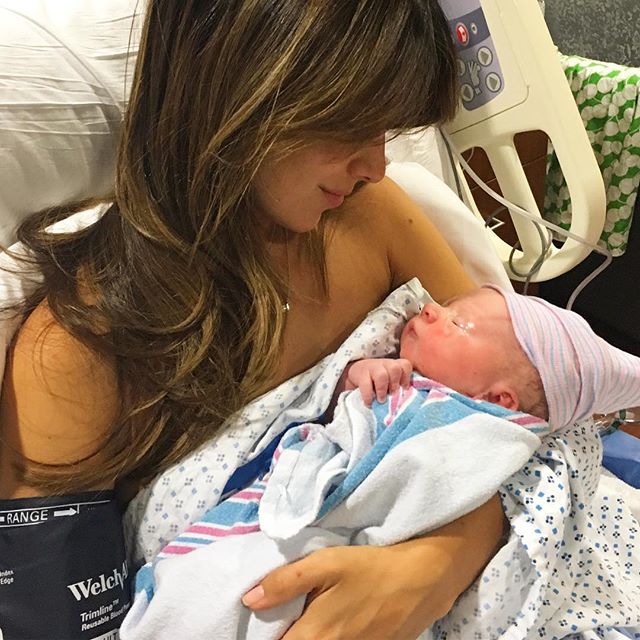 Throughout her most recent pregnancy, Hilaria, a yoga teacher and super mom, has been super open about motherhood— everything from the trials and tribulations pre-pregnancy and postpartum. And I'm talking about everything — from how her kids were little surprises to her journey with breastfeeding her children. On Wednesday, Hilaria even shared a photo of her postpartum baby weight, taken in the hospital bathroom, and revealed that she "pushed out" Leonardo — instead of having a c-section.
Hilaria has also been super honest about coming up with a name for Leonardo. In March, shortly after announcing that the couple was expecting a son, Hilaria discussed the topic of baby names during an interview with Extra. "We think we know [the name], however, I'm not going to share it with you," she told the interviewer. But she did throw out a few of the rejected names. "[Alec] likes names like Joe and Tony, I like names like Sebastian and Orlando and Carmen and Rafa. I don't think I can have a Tony Baldwin." Leonardo is the perfect mix between those names — traditional but still a little fun. What a perfect new addition to the Baldwin clan.