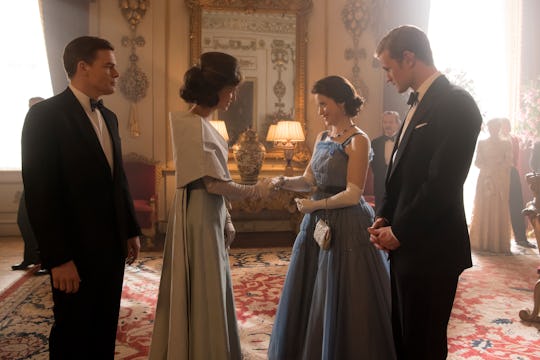 Alex Bailey/Netflix
'The Crown' Explores What Jackie Kennedy Thought About Queen Elizabeth
In "Dear Mrs. Kennedy," The Crown brought British royalty into direct contact with their closest American equivalent: John F. Kennedy and his wife Jackie, two people who were taking the world by storm in 1961. Conflict arose when Jackie said some disparaging things about the Queen following their first meeting, but how true were those comments? What did Jackie Kennedy really think of Queen Elizabeth?
While The Crown most certainly is exaggerating for the sake of drama, it was extrapolating from seeds of truth. In the show, the Queen's insecurities about her own perceived dowdiness were heightened by how stylish Jackie was and how people (including the Queen's own husband Prince Philip) jockeyed for her attention. Jackie and Elizabeth ended up connecting, but the tentative bond was destroyed when the Queen got wind of criticisms of her that Jackie shared at a party. Jackie later apologized, blaming personal stress and medication.
Those two meetings — the fancy dinner that sparked it all and the quieter chat over tea — did occur, though the exact content of the conversation isn't known. The majority of Jackie's opinions on the Queen come from secondhand sources, with friends of the late Mrs. Kennedy recalling things she said to them. Based on what they've had to say, it's easy to see how The Crown adjusted for maximum impact.
There's no evidence that Jackie ever called Elizabeth "incurious, unintelligent, and unremarkable" or referred to Buckingham Palace as "second-rate, dilapidated, and sad." Those exact lines were inventions of the show, and the reality seems much more mild. According to The Telegraph, Cecil Beaton wrote in his diaries that Jackie was "unimpressed by the palace furnishings and by the Queen's dress and hairstyle."
Jackie apparently also shared her thoughts about the royal family with Gore Vidal. The Washington Post cites several biographies as claiming that Jackie told Vidal that the Queen was "pretty heavy going." When Vidal shared that with Princess Margaret later on, Margaret was said to have replied, "But that's what she's there for." (Maybe scrounge up a better defense than that, Margaret.) Jackie also was alleged to have told Vidal that, "I think the queen resented me. Philip was nice, but nervous. One felt absolutely no relationship between them."
There was another disagreement between the two women that The Crown didn't get into. Jackie's sister Princess Lee Radziwell lived near Buckingham Palace in London with her husband Prince Stanislaw Radziwill and wanted them invited to that first dinner. However, the fact that both Radziwells were divorced didn't sit well with Elizabeth; The Crown has documented just how frowned-upon divorce was. The Queen did allow them to attend, but at a price. She knew Jackie wanted to meet Princess Margaret and their relative Princess Marina, so Elizabeth did not invite either.
"The Queen had her revenge," Jackie allegedly told Vidal. "No Margaret, no Marina, no one except every Commonwealth minister of agriculture they could find."
Despite the difficulties, Jackie and Elizabeth did have a private lunch some time later. When the press tried to get her to comment afterwards, Vanity Fair reported Jackie as saying, "I don't think I should say anything about it except how grateful I am and how charming she was."
It does seem that there was some tension between Jackie Kennedy and Queen Elizabeth, but The Crown pushed the situation a little farther than real life so that they could explore the themes they wanted to explore. However, despite the fact that the two women didn't seem like the best of friends, there's no reason to believe their interactions with one another were anything but cordial.
Check out Romper's new video series, Romper's Doula Diaries:
Watch full episodes of Romper's Doula Diaries on Facebook Watch.