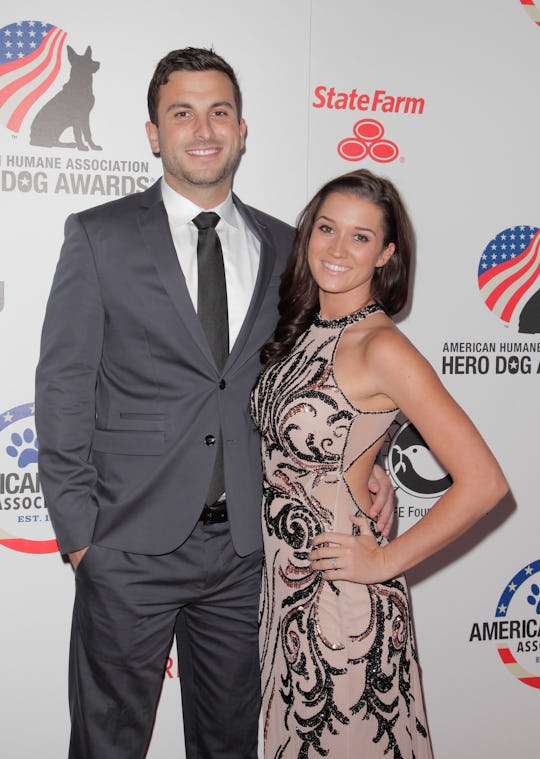 Tibrina Hobson/Getty Images Entertainment/Getty Images
Jade Roper & Tanner Tolbert Reveal Their Daughter's Unique Name
On Thursday, Jade Roper and Tanner Tolbert welcomed their first child, a daughter. Then, on Sunday, many curious fans were appeased when Jade Roper and Tanner Tolbert revealed their daughter's name, according to Us Weekly.
In a sweet Instagram post, Roper and Tolbert revealed they named their first daughter "Emerson Avery Tolbert," according to ET Online. If that moniker wasn't gorgeous enough, Roper and Tanner also mentioned that they'll call Emerson "Emmy" for short.
A portion of Roper's note read, according to to E! Online:
It's official! Say hello to Emerson Avery Tolbert! "Emmy" for short. 💗 Born just a little early at exactly 36 weeks, she arrived weighing 6lbs 8oz and measuring 20" long! She is such an angel and we can't get enough of her!
Hmm, maybe Roper and Tolbert are fans of the poet Ralph Waldo Emerson. Either way, the name "Emerson" is very pretty, especially paired with the middle name "Avery."
Now that Roper and Tolbert have a name for their daughter, they decided it was time to launch her first Instagram account. #BachelorNation waits for no-one, people.
In Emerson's first post, she "wrote," according to Instagram:
So my parents have been calling me "Emmy" for the past couple of days... I am not sure why, but I guess I'll go with it. My initials are "EAT" because that's one of my favorite things to do. - Emerson Avery Tolbert
Umm, how amazing is that coincidence? If Emerson grows up to be a food blogger or chef one day, she'll have so many incredible branding opportunities with the initials "E.A.T.." Some people are born with all of the luck, right?
As for Roper and Tolbert's many fans and costars, they love the name too:
Yep, it's clear Roper and Tolbert hit this one out of the park.
Name excitement aside, Roper and Tolbert aren't wasting a second of their newfound parenthood. In an emotional Instagram post about becoming a mom, Roper wrote, according to ET Online:
Never thought I'd post such a vulnerable pic as this, but nothing has ever felt more right and more natural than taking care of my little girl. Becoming a mother hasn't felt like some huge, transformational moment for me (besides giving birth haha). Instead, it feels like she's always been here somehow, like she has always been a part of me— almost like I don't know how yesterday existed without her. It's amazing how you can love someone so much, I now get the privilege of understanding a mother's endless love. 💗
How sweet — it's clear Emerson is dearly loved by her mom.
Congratulations to Roper and Tolbert for choosing a great name for their baby girl — "Emerson Avery" is as versatile as it is lovely.