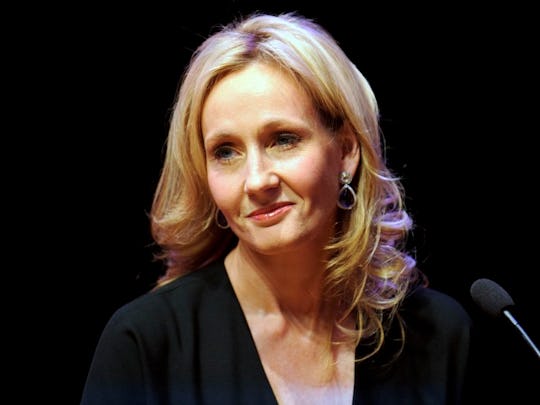 Ben A. Pruchnie/Getty Images
What Did J.K. Rowling Tell Alan Rickman About Snape? She Finally Reveals Their Secret
The news of Alan Rickman's death Thursday left the world stunned, and tributes have since come pouring in for the legendary actor, who was well-known for his roles in films like Die Hard, Sense And Sensibility, Love Actually, and, of course, as Professor Severus Snape in the Harry Potter movies. Rickman's decade-long portrayal of Snape as a complicated villain was hugely important in the series, but fans have wondered for many years about the content of a secret exchange between Rickman and author J.K. Rowling. According to HitFix, rumors had long persisted that J.K. Rowling told Alan Rickman something about Snape, letting him know "that Snape was not the bad guy or Voldemort henchman in waiting many expected him to be." Finally, Rowling revealed at least part of the secret on Monday.
In a 2011 interview, Rickman told HitFix that Rowling gave him "one tiny, little, left of field piece of information" that helped understand Snape's complexity better:
"What I knew was he was a human being and not an automaton and I knew there was some sense of protection for Harry or I worked that out. It was enough to know, I didn't know he was a double agent."
Neither Rowling nor Rickman ever elaborated on just what that piece of information was, but after receiving a tweet from a fan on Sunday asking for more details, Rowling went ahead and finished the story on Monday: she said she had told him the meaning behind "always," according to Entertainment Weekly.
Although Rickman's portrayal of Snape for most the series made him seem like a straight-up villain, fans learned in the end that there was much more to it than that: Snape was actually in love with Harry's mother, Lily, which meant that, as Mashable noted, he felt the need to protect her son despite his hatred for Harry's father. When Dumbledore realizes Snape's secret, he asks, "after all this time?" And Snape famously replies, "always."
This revelation, in both the book and the film, has been incredibly important to fans, spawning countless memes and tweets — and even commemorative tattoos.
Following Rowling's Twitter explanation, fans expressed their heartache. And Rowling, for one, seemed to feel the same way:
There's no doubt that the loss of Rickman has hit Harry Potter fans hard — for many younger fans, Snape was the most important character they'd seen Rickman play. In a way, by resolving the mystery of what she'd told him about Snape, Rowling gave a little bit more closure to the character — and now that fans know that Rickman (and Snape) are gone forever, there's something strangely comforting about knowing Rickman's inspiration behind the way he portrayed Snape on screen.
Image: Ben A. Pruchnie/Getty Images