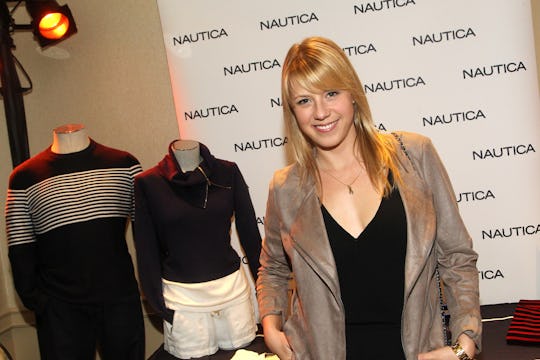 Tommaso Boddi/Getty Images for Mediaplacement)
What Did Jodie Sweetin Do After 'Full House?' She's Been Through Some Pretty Amazing Things
Jodie Sweetin delighted Full House fans as Stephanie Tanner. Now, she's set to reprise her role as the beloved middle child in Fuller House, the Netflix reboot of the '90s sitcom. Though fans are seriously thrilled to see a favorite TV family return, they've had to go a long time without seeing much of Sweetin. So what did Jodie Sweetin do after Full House? She took TV roles, wrote a book, and definitely stayed in touch with the Tanners, that's what.
It's been a busy few two decades (yes, two) for Sweetin. After appearing in 193 episodes, Sweetin and the Full House gange wrapped in 1995, according to IMDB. During her run on the beloved family show, Sweetin participated in several side projects as well, appearing on Jim Henson Presents Mother Goose Stories and voicing Sally Brown in It's Christmastime Again, Charlie Brown. The year the show ended, Sweetin was only 13 and a freshman at Los Alamitos High School, Biography reported. Her IMDB profile shows that she then played Lydia Lumpp in a 1996 episode of Brotherly Love and Rhiannon Marcus in two 1999 episodes of Party of Five. At that point, Sweetin decided to attend Chapman University, for a short period. ‌
After leaving school, Sweetin appeared in episodes of Yes, Dear and Singled Out (Leia), and she had a recurring role on Can't Get Arrested (Jodie) alongside Dave Coulier, Full House's Uncle Joey. She voiced the "He's So Gross" penguin for the mockumentary Farce of the Penguins, and she starred in the short Small Bits of Happiness as waitress Margaret. Sweetin also managed to build her comedic repertoire as Ally in Redefining Love, Nancy in Port City, and Leia in Singled Out. She also participated in a unique take on the Christmas movie genre, Defending Santa, about a sheriff who finds Santa in the woods. (Cute!)
All that work definitely kept Sweetin busy, but she's also been open about her struggles with alcohol and drug addiction during that time as well. In her 2010 memoir, unSweetined, she discussed her struggles following Full House and her long, rocky journey to sobriety, citing once incident in particular in which she was asked to speak before an audience at Marquette University, still high:
I stood up at the podium, looked around the room, and put on my best TV smile. I was so disappointed in myself. I was living a complete lie. But unfortunately, guilt doesn't make you stop. I talked about growing up on television and about how great my life was now that I was sober, and then midspeech I started to cry.
... I finished. They applauded. Standing ovation. Just how I liked it. And it was over. I was just so tired. Tired of lying. Tired of pretending to be someone that I wasn't. I took a deep breath and walked out of the lecture hall. I went back to my hotel room and buried my face in my hands. I couldn't keep doing this. It had to end.
Months later, Sweetin managed to finally kick the habit and made a courageous recovery. "I got sober for good on December 7, 2008," she wrote in her book. "From that day forward, I threw myself into going to AA ... But life is good [now]. I'm happier than I can remember."
Since that time, the actress has thrown herself into her work and family, prepping for an appearance as Michelle in the pilot for a TV series, Strange Ones later this year. Of course, her most anticipated upcoming project is Fuller House. Most of the original cast is back (minus the Olsen twins), and based on the promos, fans can expect to see their San Francisco house looking a lot like they left it in 1995.
It's delightful to know that the cast members, all friends in real life, will get the chance to reunite: Taking a look at Sweetin's Twitter and Instagram accounts, it's easy to see that the Tanner clan is virtually inseparable offscreen, too.
Season one of Fuller House premieres Feb. 26 on Netflix — and really, it could not be more wonderful to meet Stephanie Tanner on screen again. Welcome back, Jodie!